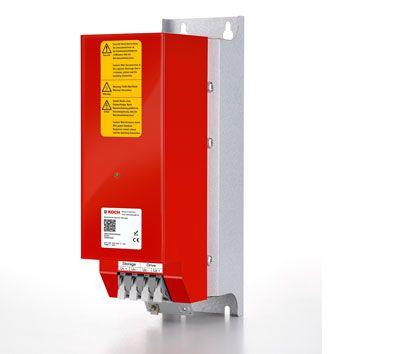 Hannover Messe Hall 14, Stand J15
Michael Koch
presents the dynamic memory manager "DSM4.0". The device makes it possible to 800 V DC voltage level to compensate for DC circuits, thus to store excess energy between and replace missing energy. Here the DSM4.0 shows special properties that make it a universal solution. It features various storage media electrolytic capacitors, double layer capacitors and batteries, in which its functions are optimally matched to the respective memory.
The application decides: Is it about the buffering of braking energy, the bridging of power failures or voltage fluctuations or even both? The DSM4.0 masters all situations imposed on it. Depending on this, the memories are allocated according to the number of cycles and the amount of energy: Over 100 million cycles are possible when things need to go fast, up to a four-digit number of cycles when dealing with large amounts of energy in the range of kWh. In between there is a solution of average energy and up to more than one million cycles. The system is also made more flexible by the fact that a DSM4.0 can access several memories of the same technology, ie the amount of energy can be easily expanded. Likewise, multiple DSM4.0 can simultaneously access a memory, which simply increases performance. Devices for the buffer function can be operated simultaneously with devices for maintaining functionality on a DC network.
This development communicates with the drive controller or a higher-level controller and executes the commands for energy compensation spontaneously. Negative network perturbations can be minimized by load peak reduction, which can even have positive consequences on the investment level at the grid connection. At the same time, the manufacturer launches the sister device KSM4.0, which covers the lower voltage range from 170 to 500 V DC. Together the devices DSM4.0 and KSM4.0 can be used in DC networks with voltages from 170 to 800 V DC. All together, in the case of lack of space, it is also possible to deliver in fully equipped and connectable control cabinets.
---
Another contribution of the manufacturer
This e-mail address is being protected from spambots To display JavaScript must be turned on!