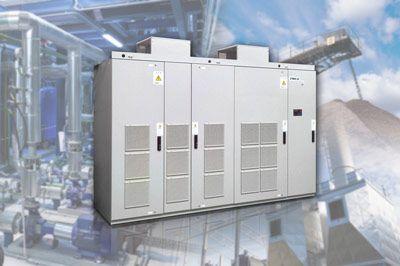 Mitsubishi Electric
has introduced a series of medium voltage converters specifically designed to meet the current and future energy needs of the industry. The compact, modular Tmdrive-Mve2 inverters feature state-of-the-art insulated gate bipolar transistors (IGBTs) and recuperation as standard, providing the industry's highest levels of efficiency.
Medium-voltage converters must be permanently reliable and highly energy-efficient. Therefore, they are usually equipped with a rigid cabinet configuration. However, the flexible Mve2 kit allows easy adaptation to the customer's situation. In addition, these medium-voltage converters ensure high levels of efficiency during operation and are uncomplicated in installation, commissioning and maintenance. Especially the 10 / 11 kV inverters offer a direct 10 / 11 kV motor output. The transformer required by conventional components at the output is eliminated.
The Mve2 series covers the range from 3,3 kV - 200 kVA to 11 kV - 5000 kVA. It is probably the most compact solution in its class on the market. Since the target sectors are usually in short supply, the two developers Toshiba and Mitsubishi Electric Corporation (TMEIC) have developed a new concept with separately placeable input transformer, which is connected to the power unit via a few cables and can thus be accommodated in a narrower installation space. In addition, the medium-voltage converter easily fits into a conventional transport container.
The modular concept of the Mve2 also applies to the converter stages and can be specified for electric motors of different nominal voltages. Even with inconsistent voltages, these electric motors can be connected to the same medium-voltage system without having to install another external transformer.
For the DC link, durable maintenance-free foil capacitors are responsible, not classic electrolytic capacitors. The fan has been paid attention to large maintenance intervals every 7 years. Regenerative capability is standard features and increases energy efficiency, while sensorless vector control provides fast response, stable operation and fast acceleration and deceleration.
---
Another contribution of the manufacturer
This e-mail address is being protected from spambots To display JavaScript must be turned on!