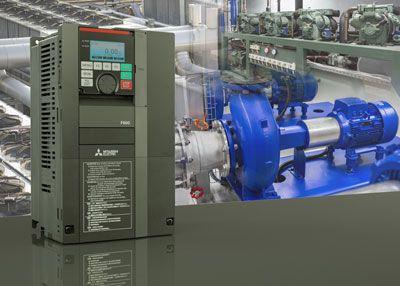 False alarms and unnecessary repair operations due to pump or fan shutdowns are all the less acceptable the higher the industrial efficiency and equipment availability requirements become. The new
Frequency converter FR-F800
by
Mitsubishi Electric
meets these increased demands and represents the new generation of speed control for general pump, fan and compressor applications.
The intelligent functions of the FR-F800 eliminate superfluous repair work, simplify commissioning and enable an efficiency of up to 98%. The frequency converter offers state-of-the-art functionality for specific industries and applications such as
wastewater treatment
, Compressor and heating / ventilation / air conditioning.
For demanding pumping applications, the FR-F800 is more reliable with a lower false alarm rate than before. Rather than relying on individual limits as with most other drives when triggered, the autotuning function of the FR-F800 accurately detects the fan or pump characteristics of the connected load and reacts appropriately as it approaches the adjustable limits. Faulty trips due to unusual but uncritical load fluctuations are thus a thing of the past. A lower false alarm rate means higher availability in the event of real malfunctions such as blocked pumps, dirty wheels or broken belts.
The heart of the FR-F800 is a special PID controller (Proportional, Integral, Differential Controller). In addition, the built-in PLC provides a true stand-alone capability: The function is used to cyclically activate pumps, warnings when approaching upper and lower limits, pipe burst detection and dry run protection, water hammer prevention and automatic suppression of mechanical resonance. The F800 is equipped with a second PID controller, allowing multiple fans, pumps and compressors to be controlled directly without the need for an additional controller.
Pump cleaning cycles can be performed automatically by the F800 on a schedule or manually as needed. This feature is likely to interest operators of water treatment plants, for whom this is a perennial issue. The fire emergency mode of the F800 can keep exhaust fans and water pumps in operation in the interest of fire fighting up to the destruction limit. An 6-line LC display with assistance function for easy commissioning and autotuning can also display customer-specific text messages. Automatic detection simplifies the connection to an HMI. The F800 is backward compatible with the drives of earlier generations.
Because of massive network connectivity, the F800 can communicate via CC-Link, CC-Link IE, Profibus DP / V1, Profinet, Devicenet, Ethernet IP, Ethercat, Lonworks, RS485, Modbus, Bacnet, etc. as standard. The wide range of I / O options is complemented by options for input and output chokes, DC chokes, harmonic filters, brake modules.
To meet customer requirements, there are 17 models covering the performance range from 0,75 to 110 kW for 200 to 240 V and 29 models for the power range from 0,75 to 630 kW for 380 to 500 V. All models come with a free warranty offered for three years. The F800 complies with all requirements of the European EMC Directive. It complies with all relevant safety guidelines, is approved for shipping and is certified by TÜV, UL and cUL and bears the CE mark.
---
Another contribution of the manufacturer
This e-mail address is being protected from spambots To display JavaScript must be turned on!