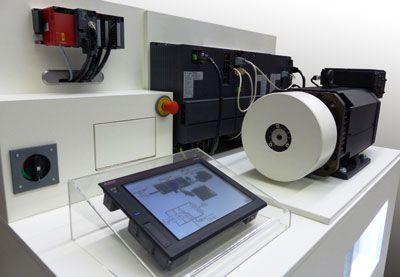 With the Energy Assist Unit
Mitsubishi Electric
For the first time, a particularly effective option is to intelligently feed regenerative energy from servomotors larger than 30 kW back into the plant, making it usable again and ultimately significantly reducing energy peaks. The solution is very well suited to unlocking the energy and cost savings potential of high-energy machines.
The Energy Assist Unit is located as a separate component between the supply unit and the inverter of the servo system and absorbs the regenerative energy that occurs when a servomotor is being decelerated. The system recognizes the regenerative current as such and stores it in the capacitor bank. If required, the Energy Assist Unit makes use of the stored energy by feeding it back to the inverter in a supportive manner.
The handling of regenerative energy differs depending on the plant. In smaller plants, regenerative energy is usually converted into heat via a resistor and not even made usable. In larger plants, the energy is often fed back into the grid. However, this greener alternative does not reduce the total energy that the user gets from the grid. The resulting electricity costs remain the same. The intelligent Energy Assist Unit automatically regulates the voltage in the servo drive and independently transfers the regenerative energy to the capacitor bank or from there back to the inverter.
The Energy Assist Unit is especially suitable for machines with a high energy requirement that continuously perform the same movements as injection molding machines or large presses.
---
development scout TV - expert panel
Another contribution of the manufacturer
This e-mail address is being protected from spambots To display JavaScript must be turned on!