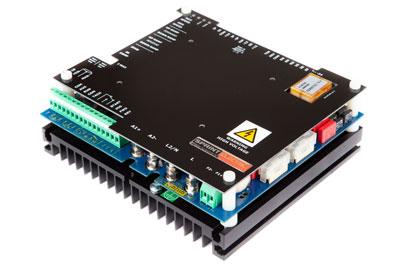 SPS hall 1, booth 124
Sprint Electric has modified its 3200i and 3600XRi DC converters. The innovations in both series increase the adaptability, performance and longevity of the two- and four-quadrant DC regulators. Both versions can be used to control the speed and current of most types of brushed DC motors.
In addition to power converters with open design as well as DIN rail mountable DC converters, a version with cover plate is now also available. It is designed so that the overall height and other dimensions of the converter remain unchanged. Thanks to the PCB material used, the cover plate is robust and shock-resistant and provides additional protection for users and components. The black base color and the white screen print applied on the screen make it easier to identify the settings and connections. The new cover plate provides a user-friendly and space-saving installation of various components such as additional analog PID controllers, external linear ramps or high-precision differential or summing amplifiers. This decisively increases the efficiency of the controllers. The pads were converted into terminals.
The DC converters of the 3200i series cover rated currents from 8 to 48 A at supply voltages from 110 to 440 V (optional 30 / 60 V). The 3600XRi series is designed for rated currents from 4 to 36 A with supply voltages from 110 to 440 V (optional 30 / 60 V).
---
Another contribution of the manufacturer This e-mail address is being protected from spambots To display JavaScript must be turned on!
More news about converters
Logimat Hall 3, Stand C17; Hannover Messe Hall 5, Stand D17 Cover story No matter whether they are used in Europe, China or the USA: The cradle of every Nordac Link is in the Nord Drivesystems manufacturing plant in Aurich, East Frisia. The drive specialist started serial production of its new field distributor series Nordac Link in 2017. The comfortable drive solution for flexible, decentralized installation is manufactured at the Aurich location. A look behind the factory gates.

Hannover Messe Hall 27, Booth E50 Celeroton presents a special converter that is used to control compressors in fuel cell systems. The CC-550-7500 allows sensorless control of brushless DC motors (BLDC) and permanent magnet synchronous machines (PMSM). The modulation and control can be matched to almost any electrical machine. This guarantees maximum efficiency in the converter and minimal motor losses.

Based on the new SD4x development platform, Sieb & Meyer is now developing a future-proof converter family. The frequency inverters support new interfaces such as Profinet, Ethercat or Biss and offer a range of additional functions. Higher speeds and significantly better performance await the user. The developers start with the SD4S converter. The frequency converter is designed for small high-speed spindles or high-speed motors in the power range of a few 100 W.

With the "Nordcon App" and the Bluetooth stick "Nordac Access BT", Nord Drivesystems has created a mobile commissioning and maintenance solution for control cabinet and frequency inverters. Both tools are used for drive monitoring on the converter from the north via dashboard, its analysis using a convenient oscilloscope function and its parameterization. In addition to the drive monitoring, the dashboard-based visualization can also be used for fault diagnosis of the frequency inverters.

The universal drive controllers "Combivert F6" from KEB Automation are frequency converters, servo or special drives in one device. They simplify the selection in drive applications and thus optimize storage, logistics and costs. In addition to the four housing sizes with nominal powers up to 90 kW, there are now additional power levels up to 450 kW for the encoderless and encoder-dependent control of different motor technologies (ASM, SSM, IPM, SynRM).

The Danfoss Drives Troubleshooting Chatbot provides targeted information on how to eliminate errors in the manufacturer's frequency inverters. The user only needs the converter series and the error code shown on the display or system. This means that the digital helper can immediately provide information on the cause and tips on elimination.

SPS Hall 1, Booth 124 Sprint Electric has modified its 3200i and 3600XRi DC converters. The innovations in both series increase the adaptability, performance and durability of the two and four quadrant DC controllers. Both versions can be used to control the speed and current of most brush-type DC motors.

The future of production is modular, flexible and autonomous. This requires new systems with decentralized intelligence that can cope with the growing complexity of the processes. Nord Drivesystems supplies a wide selection of decentralized drive technology with frequency converters that can be individually adapted to any desired application and can be flexibly integrated into the system field.

Interview with Jörg Niermann Head of Marketing, Getriebebau Nord GmbH & Co. KG, Bargteheide

download video
load More halt SHIFT to load everything load all