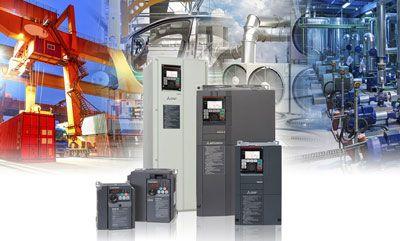 Hannover Messe Hall 17, Stand D26
technical articles
Mitsubishi Electric be rounded frequency converterPortfolio and supplies devices for additional voltage and power ranges. The drive specialist offers compact devices up to 630 kW, a liquid-cooled series for harsh operating conditions and special devices available at short notice for crane applications and winding applications.
Having covered a wide range of performance classes in the frequency converter segment, Mitsubishi Electric is now also strengthening its Large Capacity Inverter (LCI) offer starting at 75 kW, in particular with the 800er low-voltage series. While the flagship FR-A800 with four load characteristics is generally designed for heavy duty operation, is aimed FR-F800 especially for fan / pump applications. In terms of industrial networking, all new devices will be equipped with an Ethernet on board card.
Brand new within the 800er series is the industrial line voltage series three-phase 690 V (in addition to 400 and 200 V). At higher voltages, the devices can operate at lower currents, which reduces the cable cross-sections. This provides a better overview of the motor cables, especially when many inverters have to be accommodated in a confined space. All large frequency inverters from 75 to 630 kW are also designed in a compact design, ie ready for connection for simple control cabinet installation and uniform commissioning.
Liquid cooled frequency converter
The FR-A800-LC liquid cooled liquid-cooled series is currently available in sizes from 110 to 355 kW. This series is designed for use in environments where conventional air cooling is unsuitable due to high ambient temperatures or contamination such as in tunneling, mining or heavy industry. All models are equipped with a special heat sink without cooling fins, where dust and dirt can not settle. Thus, effective cooling is guaranteed even under the toughest conditions of use.
Special converters for crane and winding applications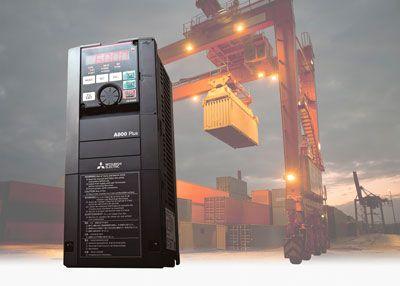 The FR-A800 Plus series are high-performance devices equipped with firmware with preconfigured functions for special applications. There are currently variants available for crane applications (FR-A800 for Cranes) and winding applications (FR-A800 for roll-to-roll).
The Crane variant FR-A800-CRN scores high with crane-specific functionalities such as anti-sway control and fall detection. The inverter detects the situation and controls against. Furthermore, the device provides additional torque when lifting heavy loads or accelerates the movement of light loads to make crane operation more economical through shorter cycle times. Thanks to PLC functionality, it is also possible to program applications such as position offset control on overhead cranes without external control, which prevents them from crossing or jamming due to different wheel speeds.
The roll-to-roll variant (FR-A800-R2R) is tailored to all types of winding applications with varying peripheral speeds on the spools / rollers. Tension Control compensates for mechanical losses due to friction on dancer rollers and winding rollers, improves the winding result by reducing the tension with increasing diameter (taper function) and dampens excessive swinging of the support or dancer rollers in the tension control, for example on paper - or wire drawing machines.
"By implementing the functionality through software, our service can easily update a standard FR-A800 device from the warehouse with the operating system. This means that we can also supply the entire range of services in the series as a special device - with an unchanged short delivery time ", comments Christian Senger, Senior Product Manager Frequency Converter at Mitsubishi Electric.
---
Another contribution of the manufacturer This e-mail address is being protected from spambots To display JavaScript must be turned on!