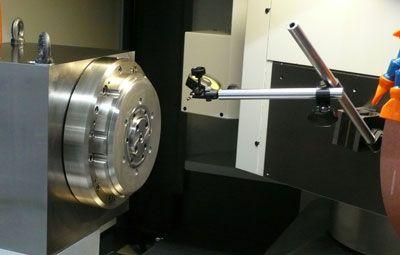 Schüssler technology presents a high-precision drive system specially developed for grinding technology. For this purpose, a high-precision cylindrical roller bearing from our own production is combined with a synchronous direct drive. Installed in the workpiece headstock of a CNC grinding machine, this achieves concentricity or axial runout accuracies from 50 to 100 nm. Even circular and cylindrical deviations of only 0,1 μm are realized in a process-stable manner.
The core components of the precision drive are high-precision cylindrical rollers that are manufactured and selected in a previously unattained accuracy class from 10 to 30 nm diameter difference. The shape and position tolerance of the cylindrical rollers is thus in the range of one tenth compared to the current state of the art in the production of reels. In addition, the cylindrical rollers have a significantly higher load factor. The integration of the existing roller running surfaces of shaft and bearing disc (housing) without joints increases the overall stiffness compared to single bearings by the factor 4 compared to standard built-in roller bearings of the same size or reduces the required installation space by the factor 5.
This integrated compact bearing provides the prerequisite for the design of direct drives with concentricity or axial runout accuracies from 50 to 100 nm (0,05 to 0,1 μm) at the output of the entire system. The engine used is a water-cooled, extremely low pulsation synchronous motor with 21 pole pairs.
---
Another contribution of the manufacturer This e-mail address is being protected from spambots To display JavaScript must be turned on!