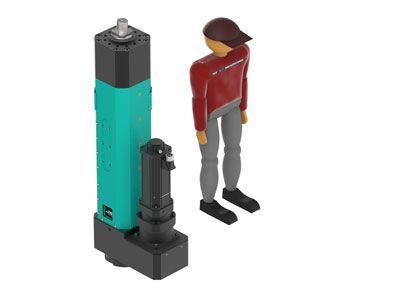 With the introduction of the electric power module EPMK 1000 comes across
Tox Pressotechnik
in electromechanical servo drives into a new performance dimension. The expanded field of application of the Electric Drive series opens up completely new drive alternatives for manufacturing industries in many areas.
The drive concept. allows sensitive control and control of force / displacement operations as well as reproducible process sequences with documented proof of quality. About the E-motors and their power supply / servo controller and the software, the interfaces are clearly defined and integration into higher-level control, quality assurance and communication networks possible.
Electric Drive's product range now includes the Electric Drive EQ-K series with press forces from 2 to 100 kN and EX-K with press forces from 10 to 200 kN, featuring a compact, weight-reduced integral design. In addition, there are the series Electric Power Modules EPMS with slim design, belt-free direct drive, pressing forces from 5 to 200 kN; EPMK with short, compact design and depending on the performance class with ball screw, planetary screw and belt drive and gear equipped and press forces from 5 to 1000 kN and EPMR with robot gun drive with special flange and pressing forces of 55 and 100 kN.
There are special variants of the robot tongs EPMR, which are optimized for clinching or riveting applications. With these standardized versions and the new EPMK 1000 high-end press power drive, users receive fully equipped, ready-to-use drive solutions.
---
Another contribution of the manufacturer
This e-mail address is being protected from spambots To display JavaScript must be turned on!