cover story
Hannover Messe Hall 14, as L35
Why expensive with too much performance when it comes cost-effective and tailored to the application. The have Adlos and koco Motion asked before they shared the "can Motion" have developed. Which consists of a stepper motor, Encoders and control existing servo system communicates via a RS232 interface during the execution of positioning.
Koco Motion received an inquiry from 2016, a Swiss manufacturer of analytical instruments, looking for a drive technology solution for a major project. The built-in valve control for analyzers brought together the companies Adlos, as a developer of the controller and Koco Motion as a drive specialist.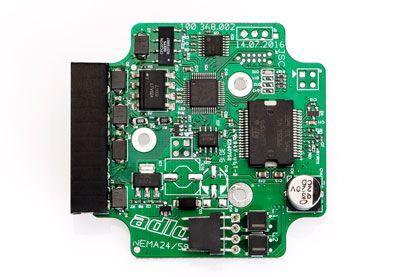 To meet the requirements, both companies developed a custom stepper motor control system. The collaboration went so well, quickly and successfully that Koco Motion Managing Director Gerhard Kocherscheidt and Adlos Managing Director Thomas Vogt subsequently concluded a long-term cooperation agreement. "We want to multiply this success concept because existing products from our product range or available on the market do not optimally fulfill such requirements," says Gerhard Kocherscheidt. Thomas Vogt adds: "To achieve this goal, we will modify existing hardware and tailor the software to the needs of the customer. We estimate the required development effort between 10 and 20 percent depending on the application ".
Koco Motion GmbH develops and manufactures small direct current motors and gearboxes as well as special motors in Dauchingen, Baden. In addition, the eighteen-employee operation of exclusive distribution partners of the American company SEM (formerly Intelligent Motion Systems) as well as of Constar and Dings - their Chinese drive specialists for stepper motors, linear actuators and DC motors.
Liechtenstein-based Adlos AG is an independent supplier of engineering, electronic assemblies and production services. The group includes three companies with approximately 200 employees in 50 countries. The engineers support companies in consulting, project management, analysis, design, construction, implementation as well as testing and production.
Stepper motor, encoder and control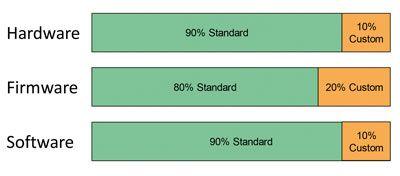 Easy. Cost-optimized. Customer-specific: This is the objective of the cooperation, which refers to a new drive platform to be created. Based on the above-mentioned customer-specific development, a new servo system was developed under the working title Kannmotion, consisting of a stepper motor with integrated encoder and a directly mounted control.
"Our Kannmotion system provides our customers with competitive advantages that are generated by the customer-specific design," is how Thomas Vogt describes the unique selling point of the new development. "And it can only do what it needs to do - and perfectly," says a delighted Gerhard Kocherscheidt and further: "The system is qualitatively and functionally comparable to the drives currently offered in Europe, but also offers a significant cost advantage, realized by the built into it - components that are tailored to the application and necessary. "The systems are completed in Europe.
Concept of new development
Initially, the cooperation partners carried out a cost-benefit analysis in the already successfully completed and currently ongoing projects.
On the mechanical side, for example, a stepper motor is used instead of a DC motor with gearbox. This results in a component savings, along with a lower wear, longer life and lower noise. Or pneumatics will be replaced by a stepper motor with electronic control. Closed-loop closed-loop control is responsible for engine speed control, torque control and positioning.
In contrast to pneumatic control systems, Kannmotion can achieve any desired driving profile such as controlled start-up and braking, the use of intermediate positions, more functionality, longer service life and lower noise at lower operating and service costs.
Reliable function and easy programming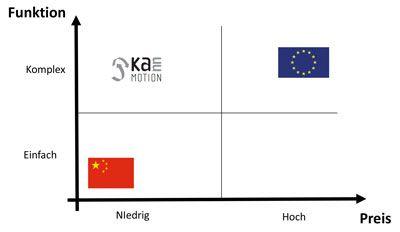 The compact Kannmotion works reliably like a servomotor and can be programmed via commands or sequence programs. Its areas of application are everywhere where positioning tasks, controlled continuous operation or programmed movement sequence are required. In addition, the on-board digital and analog inputs and outputs can be programmed to initiate the motion sequences. The Kannmotion is available in flange sizes Nema 17, 23 and 24 with torques from 0,4 to 3,0 Nm. Depending on the application, the supply voltage is 24 V to 48 V.
Communication takes place via the RS232 interface as standard. The motor parameters are stored in the internal memory. An easy-to-use terminal program can be used to send further parameters and commands for desired motion sequences to the motor control. Operation is simple: All commands can be selected from a drop-down menu. The description of each command is displayed on the right side of the screen. The servo system can also be easily programmed using the ASCII code. The impressive simplicity of the terminal program allows the user to translate motion sequences into reality in no time at all.
Application examples with value analysis
"The Kannmotion concept, due to its flexibility, is suitable for a variety of applications in very different areas as well as for a wide range of industrial applications and we even managed to win over a musical instrument manufacturer who is now adjusting a vibraphone with our servo system," says Gerhard Kocherscheidt previous market launch.
In a rotary heat exchanger, a reduction in the price of 65 percent could be achieved by saving on the gearbox and thus minimizing wear parts. The noise level has decreased by 30 percent in this development.
When using the Kannmotions in a pick and place machine now this comes out without PLC and control cabinet, which reduces the sources of error and wear. An integrated IO control simplifies cabling. Instead of 230 VAC, the design is executed in 24 VDC and therefore complies with the Machinery Directive.
"The bottom line is that the platform is as ideal as it needs to be, because we can generate value that creates unique selling points by combining standard and customization. The absolute credo is the Total Cost of Ownership (TCO) ", the engineering service provider summarizes the benefit.
Medium-sized competence center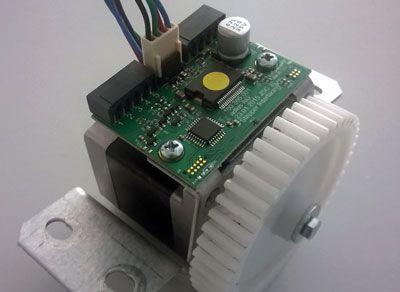 With the cooperation, the two companies have created a strong center of excellence for Kannmotion, in which almost all requirements of the customers can be implemented due to the medium-sized flexibility. Currently, the engineers are working on the implementation of additional interfaces such as CAN open and Rest.
"By the way, we are open to all industries and invite the customer to work closely together on the new development," says the drive specialist. Since the optimization of a drive or a control system always requires development work and possibly even tools that cause initialization costs, a minimum number of 100 systems is required to implement a customer-specific system. Previous projects include quantities from 1000 to 10.000.
"We are pure idealists here," says Thomas Vogt on the further objective. "With our customized Kannmotion systems, we will realize high-quality and cost-effective unbeatable drive solutions for large-scale production." And it should go to smaller quantities - no problem: "We still have our extensive standard portfolio. Because with 1 units and very small series, these drives are simply more economical, "concludes Gerhard Kocherscheidt.
Lecture on the trade press days 2017
---
Another contribution of the manufacturer
This e-mail address is being protected from spambots To display JavaScript must be turned on!