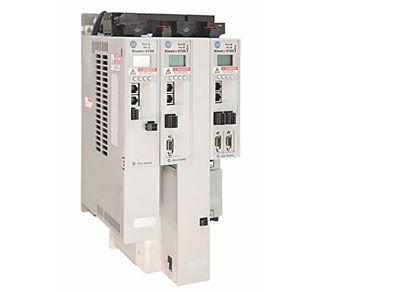 SPS IPC Drives Hall 9, 205 Stand
Rockwell Automation brings with
Allen-Bradley Kinetix 570
0 a new servo drive on the market. The use of several of separate servo drives for large machines with high number of axes and high energy consumption is thus no longer necessary. This provides the machine manufacturer with a unified platform available.
The Kinetix 5700 servo drive features dual servo axes, a wide power range from 1,6 to 60 kW, and time-saving tuning technology. Instead of several servo drives, machine builders can reduce their space requirements in the control cabinet by up to 70%. In addition, the wiring effort is reduced by more than 60%, at the same time simplify configuration and commissioning.
The drive uses real-time load-observer technology to monitor changing inertia conditions. This eliminates the need to individually tune each axis manually. Mechanical engineers can thus provide a powerful, ready-to-use servomotor control. At the same time, the commissioning time of large machines is reduced by days, weeks or even months. Once a machine is up and running, the tracking notch filter technology of the Kinetix 5700 servo drive detects and eliminates resonance frequencies.
In addition, tuning measures are automatically taken to optimize machine performance. This reduces the need for regular tuning adjustments and prevents machine downtime. DSL feedback ports provide support for the Kinetix VPL servomotors with single-cable technology. This allows machine builders to harness the wiring for motor and braking power as well as for feedback in just one cable. This reduces the wiring effort by up to 60%.
In addition, the Kinetix 5700 servo drive combines powerful induction motor control with servomotor control. This reduces machine complexity while reducing the time and cost of integration. In addition, the Studio 5000 Logix Designer software provides a development environment for configuring the Kinetix 5700 servo drive and integrating with the Logix drives for drive and safety applications.
---
Another contribution of the manufacturer
This e-mail address is being protected from spambots To display JavaScript must be turned on!