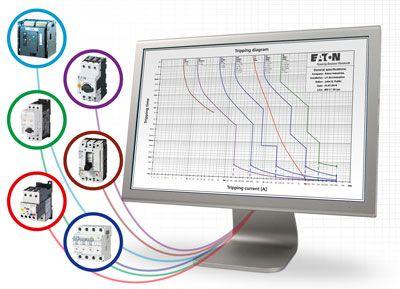 Eaton has updated and expanded the functionality of its free "Curveselect" software tool, which now also includes the adjusted characteristics of the "IE3 ready" motor protection switch. With the characteristic program, tripping characteristics of protective devices can be conveniently visualized, compared and documented. Curveselect enables users to competently assess the interplay between different Eaton devices and Eaton components in combination with other manufacturers' protective devices.
For the best possible protection and economical use of operating equipment such as systems, motors, generators, transformers or lines, it is necessary to adapt the tripping curves of the protection devices exactly to the individual performance of the equipment to be protected. The effective and comprehensive protection of equipment usually requires several switching devices that work together accordingly. In order to accurately assess the triggering behavior of these devices for a particular application, it is necessary to consider the actual settings on the various components. The selectivity of such a constellation is difficult to determine with the tripping characteristics printed in catalogs. Here Curveselect provides extensive assistance. Specific tripping curves can be easily generated and documented according to all individual switch settings.
The devices included in the program also include the NZM, IZM and BZM circuit-breakers, FAZ circuit-breakers, ZB and ZEB motor protection relays and gL or gG fuses. In addition, further tripping characteristics can be freely defined, so that, among other things, medium-voltage circuit breakers or devices from other providers can be analyzed. Freely definable curves allow a direct view of different scenarios. With the help of motor ramp-up curves it is possible to check whether the selected motor protection device enables trouble-free starting of a three-phase asynchronous motor. In addition, the user can easily clarify whether the feed-in switches comply with the upstream medium-voltage protection or whether existing devices ensure sufficient protection even with planned expansions.
---
Another contribution of the manufacturer
This e-mail address is being protected from spambots To display JavaScript must be turned on!