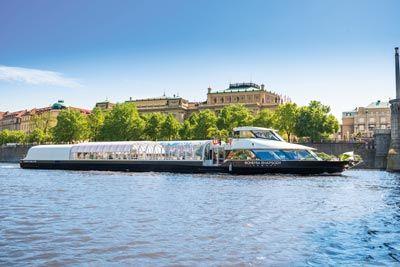 The diesel drive delivers the energy, while the electric drive train ensures optimal load distribution and speed. The combination of these principles has been the most flexible configuration for a marine propulsion system for decades
Sensor Technology Wiedemann GmbH (STW)
done the next step. For the first time, a hybrid drive for a passenger ship with two completely independent energy storage and engines was created:
a diesel main engine and a battery-electric PTO as a maneuvering aid and emergency drive. Zebotec has assembled an electric drive unit from the key components of STW, which operates both as an 360 ° bow thruster and can move the entire ship alone. The Bohemia Rhapsody, a passenger ship of the Bolle shipyard Derben in Saxony-Anhalt, is 45 m long, displaces 123 t and offers space for 220 passengers. It has been commissioned for the season 2015 and is now in use at Prague Boats on the Vltava.
Since the narrow river places high demands on the maneuverability of the large ship, it was clear from the outset that these can only be met with an 360 ° bow thruster. The safety consideration came to the conclusion that a completely independent auxiliary drive is required, which keeps the ship still maneuverable even if the main drive should fail once. It quickly became apparent that the best concept to meet all the requirements would be a pump jet powered by battery power. It is emission-free and energy-efficient, and it was also easy to accommodate in the available space. The 226 PS main drive is thus complemented by an 110 PS electric power take-off, which thanks to a lithium-ion battery can keep the ship running at full power for a full 30 minutes.
This drive solution, which works without external units, is unique in this form. In addition, the hybrid approach of conventional diesel engine and energy-efficient electric drive makes a direct contribution to environmental protection.
---
Another contribution of the manufacturer
This e-mail address is being protected from spambots To display JavaScript must be turned on!