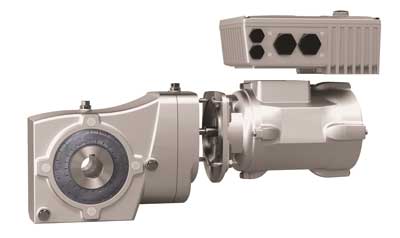 Permanently and reliably realized corrosion resistant drives
Nord Drive Systems
with the
Surface Treatment "NSD Tuph"
, Aluminum housings thus obtain a smooth and ultra-hard surface which, unlike paint, is insensitive to knocks and scratches. The drives have proven themselves in applications with a marine atmosphere and have previously been successfully tested. In the gravelometer test, no flaking or weakening of the durability of the surface was found. The salt mist did not cause any corrosion even after 2000 h.
In addition to ASTM B117-09 according to DIN EN ISO 9227 (salt spray test) and ASTM D3170 (gravelometer), further tests according to ASTM D714 (blistering), ASTM D610-08 (corrosion) and ASTM D1654-08 according to DIN EN ISO 2409 (scratches) took place ,
Drives with NSD Tuph can therefore be used in demanding environments far beyond the normal operating time of painted systems. The maintenance and servicing effort for customers drops considerably due to their durability and extended life. In addition, the process ensures high process reliability: since no material is applied, but the surface itself is cured, contamination of products or process media, such as, for example, peeling paint, can not occur. Even heavy blows or scratches do not reduce the corrosion resistance.
In contrast, in paint scratches adjacent areas can be infiltrated, whereby the damage spreads quickly and the protective effect is effectively canceled. NSD Tuph is according to FDA Title 21 CFR 175.300 for
Food applications
authorized. Correspondingly treated systems are resistant to detergents ranging from pH2 to pH12. The coating is available for all drives with aluminum housing in four gearhead series, smooth motors and decentralized drive electronics.
---
development scout TV - Statement
Another contribution of the manufacturer
This e-mail address is being protected from spambots To display JavaScript must be turned on!