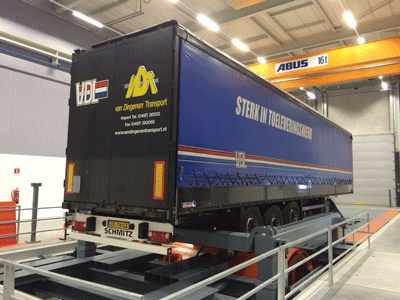 Motek Hall 9, 9525 Stand
In Helmond, the Netherlands, a test stand for trucks, buses and trailers has been in operation since this year
High-torque technology
by Baumüller in operation. In the premises of the Automotive Campus Shared Facilities, the test bench is part of four high-tech test facilities that can be used by science and companies. On two rollers, each with a diameter of 3 m, it is now possible to carry out stress tests on vehicles of various sizes. Primarily, the consequences of vibrations are checked, which can be simulated on the test bench.
The two rollers are driven by two DST2 series motors. The choice fell on high-torque technology, since here from zero speed, the full torque is available, and with compact sizes and maintenance-free by eliminating the gearbox. The series of DST2 engines is characterized by a particularly high torque over 15.000 Nm and brings power of 245 kW. The motors are equipped with water cooling and allow speeds up to 180 min
-1
, which is comparable to a travel speed of 100 km / h. The drives drive the wheels of the test vehicle via the two rollers. Each drive operates an axis side, so that cornering can also be simulated, in which the speeds on both sides of an axis are usually not identical.
In order to meet the current requirements for energy efficiency, the possibilities of energy recovery should also be used. When braking, the motors therefore act as generators and released energy is fed back into the grid.
The rollers are mounted in a 5,5 m deep pit on a suspension that stands on a seismic mass of 800 t. To prevent the transmission of vibrations to the environment, the seismic mass is suspended by springs. Overall, the test bench measures 20 m length and 13 m width. It can be flexibly adapted to different vehicle sizes.
---
Another contribution of the manufacturer
This e-mail address is being protected from spambots To display JavaScript must be turned on!