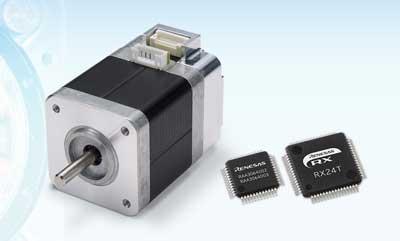 Minibea Mitsumi and Renesas Electronics have a sensor-based one together Stepper motor with resolver and Stepper motor controller developed. The resolver-based motor has been optimized for use in robots, office automation, medical technology and care. Such applications require motors with more precise motor control and miniaturized form factors. They also have to be robust against environmental influences.
Minebea Mitsumi already has extensive experience in the field of resolvers in the form of sensors for automotive applications. Now the company has developed a resolver (angle sensor) for stepper motors, which is used in industrial and consumer applications.
As the market leader in 32-bit microcontrollers (MCU), Renesas has developed a new RDC converter (resolver-to-digital converter) that supports Minebea Mitsumi's new stepper motors. Driver software for controlling the RDC with a 32-bit RX MCU was also developed. Renesas also offers a resolver-based kit for controlling the motor with development tools, including a stepper motor with resolver from Minebea Mitsumi. With the associated evaluation board with RDC, users can quickly start developing.
Features of the stepper motor with resolver development
A stepper motor with resolver also enables high-precision motor control in harsh environments with heat, dust or vibrations. With the resolver-based motor, heavy loads can also be moved without interruption. Renesas and Minebea Mitsumi have developed a new type of resolver stepper motor and resolver motor control. It can be used to expand the range of applications for stepper motors. For example, the resolver stepper motors and their controls can be used to implement high-precision movements in the development of robots or driverless transport systems (AGVs) even in harsh environments.
The torque of the stepper motors is two to three times higher than that of existing products because no interruption control is required. The stepper motor control is suitable for broadband connection and extremely low speeds. The servo control optimizes the power supply and ensures low power consumption. Thanks to the high resolution of 200.000 P / R, high position accuracy can be achieved. And thanks to the high torque of these stepper motors, applications can be further miniaturized.
---
newsroom This e-mail address is being protected from spambots To display JavaScript must be turned on!


More news from Minebea Mitsumi
In the corona crisis, numerous care facilities are desperately looking for the necessary equipment for their employees. In large parts of Europe, the supply of protective clothing and respirators is dwindling. Those responsible for most countries currently generally advise wearing protective masks in public, even if they are only makeshift protective masks. Minebea Mitsumi President Yoshihisa Kainuma and European CEO Jörg Hoffmann have now initiated the distribution of a total of 17.000 N95 protective masks around the 17 European locations.

Interpack One of the many effects of the corona pandemic is global supply shortages due to increased demand for goods, limited production capacities and local import and export restrictions. Like any other company, food and drug manufacturers face the Covid 19 risk. At the same time, they play an important role in supplying the population. Minebea Intec offers its customers special support as a measure for uninterrupted supply chains.

Artificial intelligence is predicted to have a major impact on society, culture and the economy. The use of AI in cities and urban environments, or Smart City for short, is a hotly debated topic. At the moment, the most explosive issue within this debate is Emotional Artificial Intelligence, i.e. AI with EQ. Minebea Mitsumi is concerned with the topic, because AI and Smart City are product and development branches here.

Minibea Mitsumi and Renesas Electronics have jointly developed a sensor-based stepper motor with resolver and stepper motor control. The resolver-based motor has been optimized for use in robots, office automation, medical technology and care. Such applications require motors with more precise motor control and miniaturized form factors. They also have to be robust against environmental influences.

Minebea Mitsumi took over Mast Kunststoffe GmbH & Co. KG in the course of the planned company succession. The aim is to strengthen and expand the product portfolio with the development and manufacture of drive elements. Peter and Ulrich Mast agree that the MinebeaMitsumi Technology Center is a strong and dynamic partner for future orientation. The two managing directors remain in office. By securing existing jobs, they have achieved an important goal in succession planning.

With the new Experience Center "EC" in Bangkok, Thailand, Minebea Intec offers 100% local support and service in Southeast Asia. In the brand new showroom, visitors have the opportunity to get a first-hand impression of the complete product portfolio, to conduct personal training and product tests, and to receive fast, professional technical support.

SPS Stand 1, Hall 350 Minebea Intec presents the established "Inteco" load cell with a digital upgrade, the "Novego" weighing module with the highest measuring accuracy and a cooperation success from the service area with the new LC load cells and CSD weighing electronics.

Myonic (Minebea Mitsumi) presented the next generation axial and radial bearing for the machine tool at the EMO. The AXRY-NGX series has been consistently further developed for maximum rigidity. More rigidity for high loads in the given installation space is not possible. Proven features of the EX series, such as the grease reservoirs for permanent lubrication, have been adopted.

Originally founded as a pure development center for hard disk motors, the company PM DM has meanwhile become the linchpin for motor development in the international parent company Minebea Mitsumi. From October 1st, the company name will also be adjusted to the central position in the group of companies: PM DM GmbH will become Minebea Mitsumi Technology Center Europe GmbH.
load More halt SHIFT to load everything load all