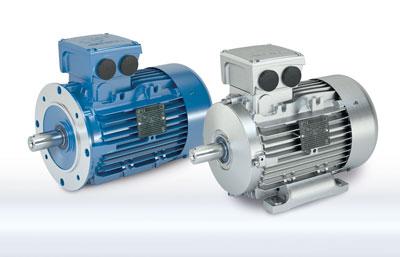 Nord Drive Systems has the design of its proven IE3 asynchronous motors optimized. The facelift covers numerous details that further enhance the function, assembly and operation of electric motors. The electrical data and mechanical dimensions remain unchanged during the facelift of IE3 asynchronous motors from Nord.
They can be seamlessly used in any existing application with North IE3 engines without any customization. The optimized cooling fin shape, an assembly-optimized fan and a new fan cowl in a modern design ensure better heat dissipation and installation. The fan cover can be easily mounted even when using a motor-mounted frequency converter. The new fin design results in a flowing air flow around the terminal box. The redesigned terminal box no longer has any pronounced corners and edges, and reinforced feet give the motors better stability.
The optimized incremental encoder is completely protected against impact by the fan guard and is no longer in the air flow. This increases the cooling capacity. It can also be retrofitted thanks to a slip-on shaft.
---
Product Configurator This e-mail address is being protected from spambots To display JavaScript must be turned on!
More news from Nord Drivesystems
Hannover Messe Hall 5, Stand D17 Nord Drivesystems presents a new universal motor in 20 variants with outputs from 0,12 to 45 kW. The engine is certified according to CE, UL, CCC, CSA, ISI and EAC. It meets the corresponding minimum efficiency requirements. It is therefore suitable for the markets in Europe, the USA, Canada, Russia, China, India and elsewhere. The engine is also certified by Bureau Veritas for shipping and offshore applications.

Logimat Hall 3, Stand C17; Hannover Messe Hall 5, Stand D17 Cover story No matter whether they are used in Europe, China or the USA: The cradle of every Nordac Link is in the Nord Drivesystems manufacturing plant in Aurich, East Frisia. The drive specialist started serial production of its new field distributor series Nordac Link in 2017. The comfortable drive solution for flexible, decentralized installation is manufactured at the Aurich location. A look behind the factory gates.

When it comes to the production and processing of thermoplastic, extrusion has established itself as the most important manufacturing process. Nord Drivesystems offers an extruder gear specially for use in extruders, which is optimized for heavy-duty use. In addition to the powerful Maxxdrive industrial gearbox, Nord also produces entire drive solutions in extruder design.

Logimat Hall 3, Stand C17 Nord Drivesystems goes one step further in terms of energy efficiency and presents its new IE5 + synchronous motor. The standardized geared motor variants of the Logidrive systems were specially tailored to intralogistics, parcel logistics and airport technology. These are particularly suitable for reducing variants. The compact design is space-saving. The light aluminum housing ensures a weight saving of 25%.

With the "Nordcon App" and the Bluetooth stick "Nordac Access BT", Nord Drivesystems has created a mobile commissioning and maintenance solution for control cabinet and frequency inverters. Both tools are used for drive monitoring on the converter from the north via dashboard, its analysis using a convenient oscilloscope function and its parameterization. In addition to the drive monitoring, the dashboard-based visualization can also be used for fault diagnosis of the frequency inverters.

Nord Drivesystems offers reliable drive technology for the grain industry around the world. In 2019, Lachenmeier Monsum A / S installed a grain terminal in Fredericia, DK, with a storage capacity for 40.000 tons of grain. They chose Nord as the partner for the drive solutions for operating the terminal.

Nord Drivesystems has optimized the design of its proven IE3 asynchronous motors. The facelift affects numerous details that further improve the function, assembly and operation of the electric motors. The electrical data and the mechanical dimensions remain unchanged with the facelift of the IE3 asynchronous motors from Nord.

Drives for intelligent brewing processes With this reference report, Nord Drivesystems provides an insight into recipe-controlled craft beer production on the subject of brewing processes. The brochure provides information about the drive solutions for intelligent brewing processes. Download brochure / further references and applications

Braubeviale Hall 7, Stand 439 trade article Nord Drivesystems presents its new synchronous motor, which combines a significant improvement in energy efficiency with the "NSD Tuph" surface finish. It is therefore suitable for the demanding environmental conditions and high hygiene requirements in beverage logistics and production. Also to be seen: the standardized drive concept for lauter tuns and the new switch cabinet converter "Nordac Pro SK 500P".

FMB Hall 20, Stand D2.2; SPS Hall 3A, Booth 465 trade article Nord Drivesystems presents a new IE5 synchronous motor (picture), which achieves a significant improvement in energy efficiency, a new generation of control cabinet inverters and a Profisafe module for the functional safety of machines and systems. The latest generation of energy-efficient permanent magnet synchronous motors significantly reduces losses compared to the current IE4 series.

Since July 2018, the sewage treatment plant ARA Chur (Switzerland) has a "Horizon" solar folding roof from DHP Technology, which enables the double use of industrial areas. Decentralized drive units from Nord Drivesystems with integrated PLC, which is controlled by weather station and algorithm, ensure the autonomous retraction and extension of the folding roofing membrane.

Inter Airport Europe Hall B5, Stand 1538 Nord Drivesystems presents its drive concepts for the networked airport. These include the latest energy-efficient permanent magnet synchronous motors, the future-proof switch cabinet converter "Nordac Pro SK 500P" and the wireless, mobile service tool for drive systems "Nordcon APP" with the mobile Bluetooth connection "Nordax Access BT".

After a total of six idea forums in the roof region, Nord Drivesystems draws a positive conclusion and is very satisfied with the good response to the new half-day event format. Four new dates in Germany and two in Austria are already being planned.

Flyer industrial gear units The "Maxxdrive XT" industrial gear unit from Nord Drivesystems with its symmetrical design can not only be installed in different installation positions. A very ribbed design in conjunction with optimized axial fans and air guiding hoods enables very high thermal limits to be achieved. The flyer contains information on the properties and advantages. Download flyer

Explosion protection catalog Nord Drivesystems has been supplying drives for use in potentially explosive environments for many decades. Since 2003, specially designed gearboxes that comply with the Ex guidelines and standards of the EU (ATEX) have also been included in the scope of delivery. Work was also carried out on other international requirements such as IEC Ex, EAC Ex and the requirements of the North American market. This catalog contains information on gear units, motors and inverters for use in gas or dust explosion protection. Download catalog
load More halt SHIFT to load everything load all