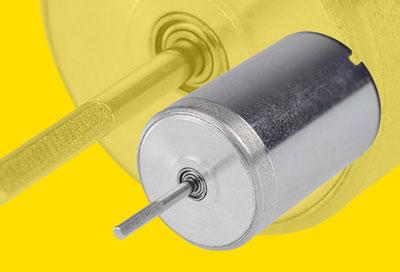 SPS hall 3, booth 240
The ironless DC motors by koco Motion have already proven themselves in many applications. They are very efficient, offer high speeds and a long service life. Now the drive specialist is expanding its 'Coreless Motors' range with new versions that are specially designed for the requirements of medical technology and safety technology.
The integrated structure of winding, commutator and shaft are the key to the characteristic motor characteristics of these small powerhouses. Thanks to the multi-part commutation segments (7 to 9 segments) and higher number of spools, the so-called ripple is significantly reduced.
The drives are running very quiet and quiet. Furthermore, they offer a lower cogging torque than their predecessor models, a high linearity of the torque and a very good synchronization. At idle, their power consumption is low and the efficiency is a considerable 80%.
The lifetimes are up to 4000 h at a possible operating temperature of -20 ° to + 80 ° C Celsius. Individual adjustments can be made to the winding, bearing, shaft, cable or flange. For the energy-efficient handling of off-grid power sources, the optimum efficiency of the winding must be adapted to the operating point. This achieves the best results.
There are three new sizes in diameters 12 to 19 mm (1221N7M, 1625N9M, 1925N9M). The ironless motors are particularly suitable for battery-operated applications such as in pumps, respiratory masks or gas detectors. They can also be used in potentially explosive environments.
---
catalog download This e-mail address is being protected from spambots To display JavaScript must be turned on!
More news from Koco Motion
Hannover Messe Hall 5, Stand A31 Cover story Koco Motion and Adlos have revised their ingenious unique platform "Kannmotion". The cooperation partners present the generation 2.0 drive consisting of a stepper motor with integrated control and encoder. Electronic and mechanical improvements were made and the software further developed. The operating tool for the stepper motors has also been completely revised. It now supports users even better in integrating the platform into their product development.

Koco Motion has now added Sonic motors to its range. The drives, which are available in sizes from 14 to 32 mm, are often used in toothbrushes, massage or facial cleansing devices. The manufacturer's drives are compact, run quietly and are very reliable. Visually, the Sonic motors hardly differ from normal rotary drives. But what are Sonic motors anyway?

Brushless external rotor drives combine a small installation space with a high power density. With the BO6452N3B, Koco Motion presents a new addition to the product family that offers impressive parameters thanks to the choice of materials and magnets. Outputs in the four-digit range can be generated from small sizes.

With the EM_S, Koco Motion presents the next generation of stepper motor drivers that are controlled via the clock direction interface. They offer better setting options, are even easier to use and have better performance than their predecessors. For the factory of the future, the drivers are available with either CAN open or Ethercat interfaces.

SPS Hall 3, Booth 240 The ironless DC motors from Koco Motion have already proven their worth in many applications. They are very efficient, offer high speeds and a long service life. Now the drive specialist is expanding its series of 'Coreless Motors' with new versions that are specially designed for the requirements in medical technology and safety technology.

Olaf Kämmerling, Managing Director of Koco Motion GmbH, Mannheim, introduces the company as a system provider whose offer today goes far beyond that of a pure distributor.

download video

Hannover Messe Hall 14, Stand L35 Cover story Stepper motor linear actuators are on the rise, especially if they can eliminate the complex pneumatic cylinders. At Koco Motion, their share of total sales has increased disproportionately in recent years. Reason enough to take a look behind the scenes of the extensive portfolio, which is available in a standard version and customized - the latter with an increasing trend.

Dr. Gerrit Kocherscheidt (44) has been the new managing director of Koco Automotive GmbH since January 2018. The physicist takes over the sister company of Koco Motion GmbH, founded in 2013. Both companies are located in Dauchingen.

Cover story Not yet available a few years ago, the share of DC motors (DC) now accounts for 70 percent of the entire Koco Motion portfolio - and the trend is rising. The drive specialist's extensive and also customer-specific executable DC motor program covers a power range from 0,06 to 1670 W. Brushed and brushless motors are available in numerous designs for a wide variety of applications.