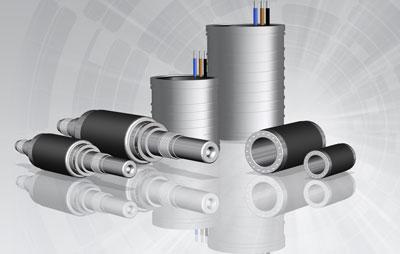 SPS hall 3A, booth 200
The wide range of high-speed electric drives for almost every requirement of GMN consists of three product groups, which differ in their degree of customizability, among others: MSP Basic complete motors, semi-flexible solutions of the PSM series and customer-specific custom-made products.
Characteristic for the electric drives are in addition to the high speeds and the large power density their pronounced efficiency with efficiencies of up to 95%. Depending on the series, the power spectrum ranges from a few kW up to 150 kW, the speeds range up to 250.000 min-1, All electric drives are extremely compact thanks to integrated water cooling.
The ready-configured synchronous motors of the MSP Basic series are especially quick to deliver and ready for immediate use. The series comprises ten four-pole standard motors, each in three standardized designs. Optionally, they are available with foot, flange or a combination of both. The feeds of electricity and cooling water can be flexibly positioned and facilitate installation.
The various models offer power between 7,5 and 45 kW as well as speeds between 14.000 and 18.000 min-1 at shaft heights from only 80 to 112 mm. Design and connection dimensions are standardized, so that the MSP models can also be used to increase performance in existing installation space.
The individually adjustable installation kits of the PSM series consist of a built-in stator and a rotor element, which is available in various designs. The customer retains the design authority over the housing construction, the bearing arrangement and all mechanical interfaces. The PSM series is suitable for applications requiring more flexibility than standard solutions.
For higher outputs and speeds, the drive specialist develops customized electric drives with up to 150 kW power and speeds of up to 250.000 min-1.
---
Another contribution of the manufacturer This e-mail address is being protected from spambots To display JavaScript must be turned on!
More news about engines
Interpack automatic positioning systems save time when changing the format and increase the efficiency of production lines. The compact positioning drive Segmo GEL 6129 from Lenord + Bauer significantly reduces the changeover effort. Thanks to the various connection options in the form of straight and angled plugs and its small dimensions, the actuator offers more freedom in system design. Identical housing dimensions for the positioning drives for the 2,5 Nm and 5 Nm variants facilitate integration into the system. The maintenance-free Segmo compact drives with battery-free multiturn absolute encoder, gearbox and motor as well as integrated power and control electronics are designed for standalone use and for connection to the central control unit Segmo-Box. Positioning drives in the Segmo system The complete positioning drive system Segmo consists of three individual components that work together...

Hannover Messe Hall 5, Stand D17 Nord Drivesystems presents a new universal motor in 20 variants with outputs from 0,12 to 45 kW. The engine is certified according to CE, UL, CCC, CSA, ISI and EAC. It meets the corresponding minimum efficiency requirements. It is therefore suitable for the markets in Europe, the USA, Canada, Russia, China, India and elsewhere. The engine is also certified by Bureau Veritas for shipping and offshore applications.

Aerotech introduces the HEX150 RC, a new hexapod. With a diameter of 150 mm, this smaller brother complements the existing product family with a diameter of 500 and 300 mm. In addition to being used for quality assurance in measurement and testing technology, it is also particularly suitable for automotive, electronics, mechanical engineering and medical technology.

Hanover Fair Hall 9, Stand F06 The integrated series for AMI812x servo drives from Beckhoff combines the components servo motor, output stage and fieldbus connection. The new servo drives expand the compact drive technology up to 48 V DC by extremely compact and decentrally installable devices. This means that the servo motor, output stage and fieldbus connection are integrated in a space-saving design for applications with cabinet-free automation in the motion power range up to 400 W.

Achieve an efficiency of 97% without rare earth? This is possible with the alternative motor winding of three-phase asynchronous motors (DAM) and three-phase generators, which the company Umwelt-Technik-Marketing presented at the specialist press days 2020. These motors do not need permanent magnets. Such a winding reduces the use of materials, especially copper. The DAM constructed in this way achieve an efficiency of class IE 4 and dispense with rare earths for the production of permanent magnets in the windings of the motor.

Hannover Messe Hall 5, Stand A31 Cover story Koco Motion and Adlos have revised their ingenious unique platform "Kannmotion". The cooperation partners present the generation 2.0 drive consisting of a stepper motor with integrated control and encoder. Electronic and mechanical improvements were made and the software further developed. The operating tool for the stepper motors has also been completely revised. It now supports users even better in integrating the platform into their product development.

Minibea Mitsumi and Renesas Electronics have jointly developed a sensor-based stepper motor with resolver and stepper motor control. The resolver-based motor has been optimized for use in robots, office automation, medical technology and care. Such applications require motors with more precise motor control and miniaturized form factors. They also have to be robust against environmental influences.

When changing formats on production machines such as packaging machines, labelers, textile machines, printing machines or woodworking machines, precise and reproducible positioning is always important. In addition to optimizing the machine set-up times, incorrect settings can also be prevented by fully automated positioning drives. Siko now presents new positioning drives of the AG03 / 1 series with IO-Link interface.

Logimat Hall 7, Stand A31 EBM-Papst presents intelligent drives for driverless transport systems as well as shuttle applications for innovative logistics. As a novelty, the drive specialist is introducing a drive-steering system that is operated via BLDC brushless DC motors for mobile battery-operated applications. The DC motors are also used in shuttle applications.
load More halt SHIFT to load everything load all