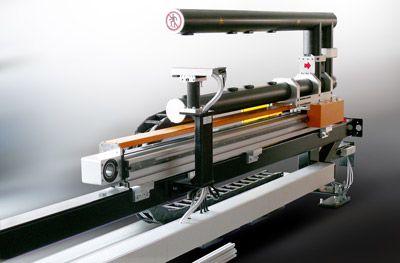 Automatica Hall B5, Booth 328
cover story
The Thickness measuring system "DML 6000 ct"From Fagus-Grecon is mainly used in the wood-based panel industry, where it is used for quality control after the main press or the grinding line. A linear axis of Rollon allows flexible movement and precise positioning of the laser measuring sensors of the system. The robust solution from the "Modline "range Withstands even extreme conditions without any problems.
Fagus-Grecon Greten GmbH & Co. KG is an owner-managed family business with headquarters in Alfeld / Hanover. Fagus is a leader in the manufacture and development of shoe lasts, while Grecon develops and manufactures instrumentation and fire protection systems for applications in many industries. The measuring technology and scanner program is used worldwide in the wood-based panel industry and many other sectors for process control and quality assurance as well as for the optimization of raw materials and energy.
Fagus-Grecon systems can be used to record basic physical quantities such as thickness, humidity or weight and process-specific parameters based on physical models. "As industrial automation advances, so does the number of different process-specific parameters that need to be measured," explains Farid Tmimi, Head of Design Grecon Inspection. "From splitter detection to contaminant identification and surface quality assessment, we provide our customers with the tailor-made solution for their specific industry-specific task."
Thickness measurement for quality control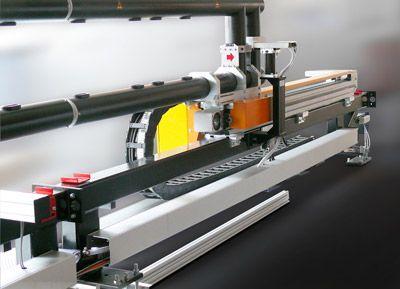 Part of the Grecon product range is the laser thickness gauge DML 6000. It determines the material thickness of solid, soft and damp materials with a non-contact measured value recording by means of laser beams. The measured values ​​can be recorded up to the material edges. Depending on the requirements, the measured value can be recorded at stationary points or traversing over the entire production width. A traversing measured value recording enables maximum material detection and clarifies linear material displacements.
For thickness measurement, preferably one measuring head is used above and below the plate. This pairwise arrangement of the measuring heads compensates for vibrations and deflections of the material and thus has no influence on the measurement result. For film-like materials, the measurement can also be done on one side against a precision roll. The measurement is recorded without contact via an optical laser.
To increase plant availability, the DML 6000 can be equipped with a ct measuring frame. This version is equipped with three measuring tracks each on two carbon brackets, which can be moved individually. Thanks to the low coefficient of thermal expansion of Carbons, the system can deliver the most accurate measurement results even under changing environmental conditions. The flexible design of the system makes it possible to carry out maintenance, diagnostics and, if necessary, repairs during ongoing production. In addition, escape travel is possible when large obstacles occur which can prevent possible damage to the measuring system. "The DML 6000 ct is especially popular with customers in the wood-based panel industry," says Farid Tmimi. "Here it is used for quality control after the main press or the grinding line."
Fast and accurate - even under extreme conditions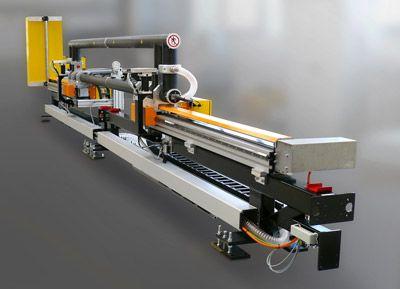 The system can be moved thanks to a linear axis from Rollon. The linear technology expert from Dusseldorf has been a preferred partner of Fagus-Grecon for many years. Together, the companies chose the right axis - above all, it had to be precise, but also robust and dirt-resistant: "We are dealing here with harsh operating environments, the system is exposed to relatively high temperatures and there is a high level of particulate emissions," said Farid Tmimi. "Of course, accuracy is important as well. After all, we are positioning the laser measuring sensors of the system, which is installed in the carbon brackets, via the axle." In addition, the maximum travel time for the total stroke should only be two seconds.
The choice finally fell on the TECRQ170 linear axis of the Modline series with strokes from 600 to 1800 mm. Rollon adapts it to customer-specific requirements - a drilling pattern specified by Fagus-Grecon is inserted in the carriages. "Our Modline linear modules are precise and resilient, and support high speeds," says Frank Voss, Sales Engineer at Rollon. "So they are ideal for the application at hand."
High dynamics, optimal load capacity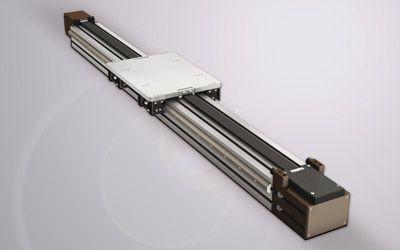 The Modline linear modules are systems with toothed belt or ball screw drive. They prove themselves, for example, in assembly lines for the automotive industry, but also in painting, in sheet metal handling, in mechanical engineering and in palletizing. It can be realized up to 12 m long carrier, longer lengths are possible as impact-machined design.
The steel guide rails are hardened and ground and can be combined with prismatic, roller or recirculating ball carriages. Thanks to its high torsional stiffness and precise cross-section, the Modline series supports payloads of up to 2 t. The maximum travel speed of this series is 5 m / s with a repeat accuracy of ± 0,1 mm. The machining of all profiles ensures a high repeatability. Shrink disks for a high torque ensure a backlash-free drive. "Last but not least, we offer a wide range of accessories for these linear axes," adds Frank Voss. "And if the customer so wishes, we can also develop customer-specific solutions based on the Modline products - for example, pre-assembled systems for Cartesian 2 or 3-axis robots or even special guide rails for mounting assemblies in parallel."
The TECRQ6000 has proven itself so far in use in the laser thickness measurement system DML 170. "Rollon's axle meets or exceeds all our requirements," concludes Farid Tmimi. "We are very pleased with the cooperation with Rollon." Based on the good experience, the design manager wants to extend the cooperation in the medium term: It is planned that Rollon axles will be used in the revision of several plant types.
---
Another contribution of the manufacturer This e-mail address is being protected from spambots To display JavaScript must be turned on!