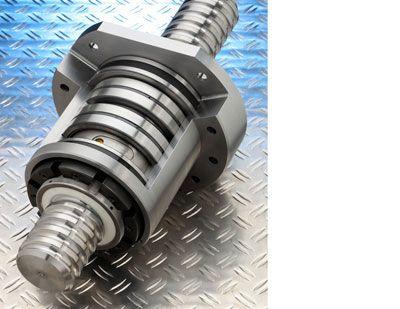 EMO Hall 7 stand E44
Ball Screws
ensure in machine tools the process of linear axes. The components must actually meet conflicting requirements, such as speed range and precision, or performance and reliability concerns. Because high accelerations and speeds combined with high durability and reliability are actually contradictory. Kammerer combines the contradictory requirements with its ball screw drives.
Ball screws with a rotating nut are ideal for long axes, such as in portal milling machines, since this drive concept enables high linear speeds with long useful strokes of the ball screws. At a speed of 50 m / min, the noise is much lower compared to other solutions. The manufacturing process of hard-peeling ball screws has been proven to reduce noise during operation. The heat development is reduced, since a spindle cooling realize more easily standing spindle and the standing mother housing can be easily cooled
.
The powered nut concept has other advantages. With the driven nut, speeds above 120 m / min can be achieved in conjunction with a large pitch. Under ideal conditions, speeds up to 4000 min
-1
possible. Therefore, with long distances, the cycle times can be positively influenced. The higher dynamics cause an increase in productivity. The preloaded spindle system ensures a higher total rigidity of the drive train. The critical bending speed is not limited and spindle accelerations of up to 30 m / s² are possible. Existing speed limits can be increased by using hybrid bearings and ceramic balls. The drive concept can be modeled as a single-weight oscillator and thus well regulated. For large masses to be moved this drive concept has a better dynamic behavior. By a spring-loaded spindle, the elongation caused by the change in temperature can be compensated without loss of Spindelreckung.
---
Another contribution of the manufacturer
This e-mail address is being protected from spambots To display JavaScript must be turned on!