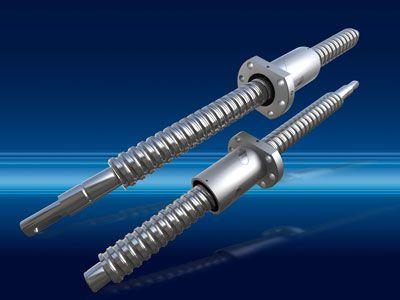 Ball Screws
For dynamic positioning tasks in continuous operation, trapezoidal screws are suitable for slow transport tasks and voltage tasks with a short duty cycle. The portfolio of
Rodriguez
includes both standard and special designs of threaded spindles for every conceivable positioning task. Upon request, ready-to-install assemblies are also manufactured on a threaded spindle basis.
Thanks to their special design with balls as rolling elements, ball screws have a very high efficiency and are therefore very well suited for dynamic positioning tasks in continuous operation. A typical application example is the exact positioning of the wood block on the peeling axis of a rotary peeling machine. Here, for example, ball screws of the size 50 x 10 with the accuracy class 5 are used. They allow a slope deviation of a maximum of 23 μm to 300 mm. Depending on the application requirement, the manufacturer supplies ball screws with single, double and special nuts in a wide variety of designs - with or without preload, single or multi-speed. In our own production, application-specific custom-made designs with short delivery times are even produced for drawing-related ball screws. In particular, the common sizes of the rolled ball screws in the accuracy classes C9 and C7 with fitted flange ring nuts according to DIN are available at short notice.
In many industrial applications, speed is a hurdle to conventional ballscrews. The longer the ball screw, the higher the risk that the desired speed will not be reached due to the limitation by the critical speed of the spindle. The ball screw drive combination with driven ball screw nut, axial angular contact ball bearing and precision lock nut results in a powerful, toothed belt driven unit that delivers optimal results even at high speeds. On request, a corresponding drive wheel can also be integrated.
Trapezoidal screws for stress applications and slow transports use sliding friction that is lower than standard ISO threads. They are suitable for tasks without great demands on the positioning accuracy and play their advantage of self-locking, especially for use as a Z-axis. However, their efficiency is lower than that of ball screws due to the permanent friction losses, as well as the feed rate. Therefore, trapezoidal threads are used primarily for slow transport or voltage tasks with low duty cycle. Typical applications are the use as a drive element in milling and lathes, in play-free positioning systems, automatic lifting presses and other lifting mechanisms, for example in the food industry.
---
Another contribution of the manufacturer
This e-mail address is being protected from spambots To display JavaScript must be turned on!