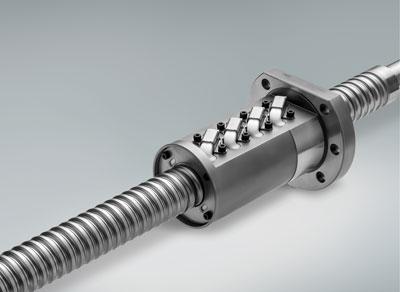 NSK introduces a new series of Ball Screws before, among others high stress reached about three times longer life. This is made possible by a special texture of the surface, which provides for improved oil film formation.
Ball screws are subject to wear as mechanical components. One of the constant development goals of NSK research is the ever-decreasing minimum friction of the spindles due to physics, and thus increasing the service life of these drive elements. Here, there is a clear success, which has now been developed to series maturity.
At the beginning of the development was the fact that typical damage patterns on the surface of ball screws due to lack of lubrication. The lack of lubrication in turn leads to direct metal-to-metal contact between the spindle and nut. Typically, the spindles are ground by precision ball screws. Their surface texture appears under the microscope as strip-shaped. In these microstrips, oil can run well, which can be a cause of selective deficient lubrication.
Based on these findings, the manufacturer developed a new surface treatment that creates a surface texture with microwells. In these depressions, the smallest oil reserves can settle and prevent insufficient lubrication as well as effectively. The mother thus constantly moves on an oil film.
This technology reduces the wear of ball screws especially with slow and short strokes. Compared to standard ball screws this increases the service life by a factor of three. In addition, the new surface texture reduces break-away and stick-slip effects - even with small strokes and slow movements.
The new series is suitable for. For example, for use in machine tools that perform high-precision machining processes and with which molds and tools are produced. Another application example is the linear drives of spark erosion systems. Also for grinding machines and similar challenging applications, this series is very good.
The ball screws with the new surface texture will be available in gradients from 10 to 50 - in accuracies of C5 and better. Currently, the first samples are being used by users. The series production will start next year.
---
Another contribution of the manufacturer This e-mail address is being protected from spambots To display JavaScript must be turned on!