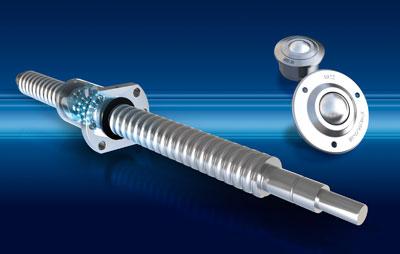 Motek Hall 6, 6333 Stand
Rodriguez presents his precise Ball Screws in metric and imperial dimensions of common standards for a wide variety of industrial sectors. With the diverse Ball Transfer UnitsIn addition, heavy loads can be moved easily, precisely and with minimal effort. New in the portfolio: a ball roller with integrated clamping.
Typical applications of ball screws are, for example, adjustment, travel and clamping devices in production and machine tools. In robots, medical technology or semiconductor production, ball screws are used for dynamic positioning tasks in continuous operation. For customers with high precision requirements, the linear technology specialist supplies ground and swivel ball screws with a high degree of accuracy. In our own high-performance production, rolled ball screws in application-specific designs are also custom-made to economical conditions. Short delivery times are guaranteed, even for ball screws manufactured according to the drawing.
Alwayse's universally movable ball rollers are ideal as lightweight conveyor elements, especially in material handling technology. A total of 146 different ball roller variants with load capacities from 10 to 5000 kg and ball diameters from 4,8 to 120 mm solve almost every transport problem. New in the portfolio are the ball rollers with clamping option: the components, which are only 25 mm high, can be fixed in place thanks to an integrated clamp.
---
This e-mail address is being protected from spambots To display JavaScript must be turned on!
More news from Rodriguez
Hannover Messe Hall 5, Stand E04 The drive unit for a special vacuum application in semiconductor production consists of an internally toothed stainless steel ball bearing with the dimensions 1230 x 1091 x 27,5 mm including mounting plate and drive pinion. Rodriguez supplies this module from a single source as part of its customer-specific system solutions, Value Added Products. Thanks to a two-layer clean room packaging, the drive unit meets the strict requirements of the semiconductor industry.

Hannover Messe Hall 5, Stand E04 Rodriguez presents the miniature ball screws as part of its linear technology. Because there have been supply bottlenecks in the area of ​​miniature ball screws for some time, the company points out that it can deliver the small machine elements faster than the competition. "The supply bottlenecks are due to the fact that the number of suppliers has declined while the demand for miniature ball screws has increased," explains Jörg Schuld, linear technology product manager at Rodriguez.

The bidirectional Axial Radial cylindrical roller bearings from Rodriguez are now also available in an HSA version. It offers improved rigidity, a 20% reduced starting and running torque and 20% higher speeds. Users also get up to 70% higher torque stiffness and load capacity in both directions. The delivery program includes types of axial radial cylindrical roller bearings with bore diameters from 200 to 580 mm for almost all applications, especially machine tools.

The Rodriguez DRF / DRN axial angular contact ball bearings are suitable for the mounting of ball screws and trapezoidal screws. Due to their properties, they can be used perfectly as a fixed bearing. The powerful, double-row components are available in diameters from 12 to 40 mm. They are accurate and efficient - even over a long period of time.

Motek Hall 6, Stand 6333 Rodriguez presents its precise ball screws in metric and inch dimensions of the current standards for a wide variety of industrial sectors. With the diverse range of ball castors, heavy loads can also be moved easily, precisely and with minimal effort. New in the portfolio: a ball roller with integrated clamping.

EMO Hall 7, Booth B16 High rigidity, high loads and extremely precise concentricity: these are the features that combine Rodriguez's RTB bearings, which have been specially designed for use in rotary, positioning and indexing tables as well as for supporting milling or drilling spindle heads were.

Rodriguez offers part-turn actuators as ready-to-install modules with housings and seals as well as optional electric or hydraulic drives. In this way, users benefit from low installation and maintenance costs. The rotary actuators in three sizes can be individually adapted to special customer requirements and are immediately available from stock.

A high level of reliability must be guaranteed for large roller bearings - after all, components with an outer diameter of up to 6100 mm and a weight of up to 20 t can only be replaced with great effort. At Rodriguez, the relevant know-how is available for large-dimension ball and roller slewing rings, ring gears and swivel drives.

Bauma Hall A3, Stand 313 Rodriguez offers slewing drives, ball slewing rings, slewing bearings and electric lifting cylinders in the standard version and customized for the construction industry. Thanks to their special design, the standard slewing rings can absorb radial, axial and tilting moment loads. They are available in two types with a raceway system sealed on both sides.
load More halt SHIFT to load everything load all