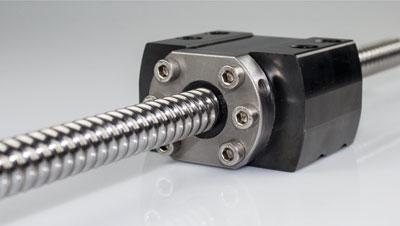 All about Automation Stand A-414
They convert the rotation of an engine into a linear movement with a very high degree of efficiency: the Ball Screws by Dr. Tretter Designers can use it for all types of linear guides. These consist of a spindle, a nut with the balls and the storage together. With high efficiency they convert the rotation of a motor into a linear motion.
In most cases, the spindle is driven and the nut is connected to the part to be moved. In some cases, the nut is driven and the spindle performs the linear movement. In general, a distinction can be made between ground and rolled spindles. For ground spindles, the nuts are usually preloaded - that is, free of play - or executed with little play up to about 0,005 mm. Their high surface quality results in a particularly quiet operation.
The offer includes the steel housing for ball screw nuts according to DIN (Form B). This serves as a connecting element between the drive and guide. The user can mount the ball screw drive easily and accurately.
With new axial angular contact ball bearings from the manufacturer, users can position ball screws in modern machine tools quickly, efficiently and precisely. The BSBD series also accommodates high axial loads in both directions thanks to the double-row configuration with 60 degree pressure angle. The bearings are sealed and delivered ready-to-install with lifetime lubrication. For higher loads there is the paired version. Here, the individual bearings are matched.
---
Another contribution of the manufacturer This e-mail address is being protected from spambots To display JavaScript must be turned on!