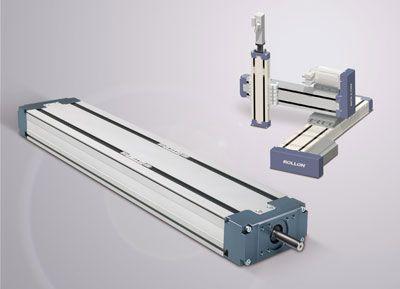 A very good solution for automation applications with little installation space is the "TH 70" linear axis from Rollon, It achieves high performance, is extremely accurate and incredibly compact. The TH 70 from the Precision System of "Actuator Line"Was specially developed for smaller applications in which high precision and robustness are required for low load capacities, but only little space is available.
Thanks to their precision-machined ball screw design and ball-bearing recirculating ball bearings, the compact linear units provide high positioning and repeat accuracy with optimum operating characteristics and performance data. Two parallel rails with two or four preloaded linear guide carriages ensure the safe absorption of high forces and high load moments. In addition, the modular axles, consisting of a self-supporting aluminum profile, offer high inherent rigidity, a low displacement angle and low wear.
Separate lubrication channels for the ball screw and the recirculating ball bearings ensure smooth running of the mechanical interior. As a result, all relevant points are reliably supplied with lubricants and a lack of lubrication is excluded even in demanding continuous operation. The internal components are also protected by a plastic masking tape against environmental influences. The TH 70 is available as SP2 with one carriage and as SP4 with two carriages. It achieves a maximum stroke length of 591 mm (SP4: 550 mm) and a dynamic load rating of 3140 N (SP4: 6280 N). Their repeat accuracy is within 5 μm.
Due to their functionality, resilience and compactness, the TH 70 can be found in numerous applications in automation technology, including laser applications and measuring equipment, as well as for positioning tasks, precise handling or dosing stations.
---
This e-mail address is being protected from spambots To display JavaScript must be turned on!
More news from Rollon by Timken
Jörg Lillpopp, Head of Sales and Technology, Rollon GmbH Logimat Hall 7, Stand F51 Interview On the way to becoming a global player, we asked Sales Manager Jörg Lillpopp at Rollon about strategy, economic development, timken integration and much more. In times of Brexit, the US-China trade war and the like, the linear technology specialist developed from a component to a system provider of linear guides and linear axes and worked on models in which the electrical and mechanical linear technology performed more than just movements. In Predictive Maintanance and Condition Monitoring, Rollon sees great opportunities to help shape Industry 4.0 for the next generation.

Specialist article Logimat Hall 7, Stand F51 The Cobot from Universal Robots (UR) has a much greater range. This was made possible by using the UR + certified linear axis from Rollon. They were optimally designed for collaboration with the popular collaborative robots cobots in automation. The "Dahl Linear Move" all-in-one package is fully integrated into the universal robots system. It can be configured individually and operated very easily. According to Rollon, it has never been so easy and for the first time it is so fast and economically possible to combine a collaborative robot from UR with a linear axis.

Rollon has specially designed the linear axes of the "Tecline" series for the efficient handling of heavy workpieces. They are extremely resilient and highly dynamic. This makes them suitable for bridging long strokes and for use in dirty work environments.

Motek Hall 5, Stand 5402 For production and assembly automation, Rollon supplies efficient movement concepts that are robust, precise and dynamic. The linear technology specialist shows what this looks like in practice using its exhibits.

Motek Hall 5, Stand 5402 Cover story The Russian company Movikom develops and implements innovative robot systems and mechatronic solutions for special cameras. The high-tech experts installed a track-based camera system along the soccer field in a Minsk stadium. Robust, reliable linear technology from Rollon gets the camera cart going and enables high-quality shake-free shots.

EMO Hall 8, Stand D20 Rollon will focus on efficient movement concepts for workpiece handling systems and automatic machine doors as well as the seventh axis for handling robots at EMO. These work correctly for a long time with high cycles and under critical conditions. They are easy to assemble and can be replaced with little maintenance.

The roller guides of the "Compact Rail" from Rollon are highly precise, extremely robust and incredibly versatile. The self-aligning systems compensate for parallelism errors on the assembly surface and, thanks to their compact design, can be easily integrated into tight spaces.

The stable telescopic guides of the product series "Hegra Rail" and "Light Rail" from Rollon are robust and economical. In compact, load-bearing cross-sections, they are suitable for the construction of reliable and durable pull-outs on load carriers. They work reliably, require little maintenance and are very precise.

The "TH 70" linear axis from Rollon offers a very good solution for automation applications with little installation space. It achieves high performance values, positions extremely precisely and is incredibly compact. The TH 70 from the Precision System of the "Actuator Line" was specially developed for smaller applications in which high precision and robustness are required for low load ratings, but only little installation space is available.
load More halt SHIFT to load everything load all