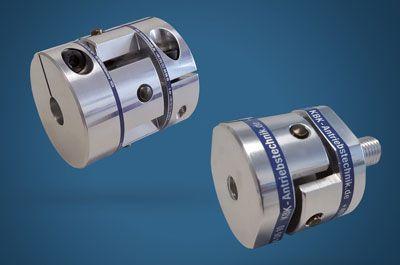 KBK Antriebstechnik
now also builds robust universal joints. The new development is suitable for compounds with particularly high shaft misalignment. Unlike standard metal bellows couplings with or polymer elements come into this universal joints made of aluminum-based on the principle of the universal joint development to be applied, the fatigue strength by special bushings and guides, very stiff and has almost no play.
This allows the universal joints to compensate for unusually high shaft misalignment. A radial offset of up to 2 mm can be easily compensated and this with short installation space. Too much offset, the life of metal bellows couplings decreases relatively quickly, while jaw couplings transmit the forces occurring in the gearbox bearings, which are then damaged by increased wear. The articulated couplings can still be used without problems in these cases, for example in the installation of printing presses or wherever the resulting shaft misalignment can not be determined sufficiently precisely in advance. They also offer very low restoring forces, high torsional stiffness or axial rigidity, variable thread diameter and high angular and radial misalignment. In addition, they can transmit relative to the space relatively large torques.
The KBGK series has a threaded hole on one side and a threaded pin on the other. This makes it particularly suitable for use as a transmission coupling between two shafts or as a linear coupling. If, for example, a linear motor has to be screwed to a machine frame at both ends, and the supports do not align exactly, a shaft misalignment results, which leads to the bending of the linear motor axis. The result is precision defects and increased wear. If a male and female coupling is used on one side to connect to the linear motor axis, the problem is solved.
In the case of the equally sized KBGK-T series, double-sided clamping hubs are used in the application. It is suitable for use with servo and stepper motors.
---
Another contribution of the manufacturer
This e-mail address is being protected from spambots To display JavaScript must be turned on!