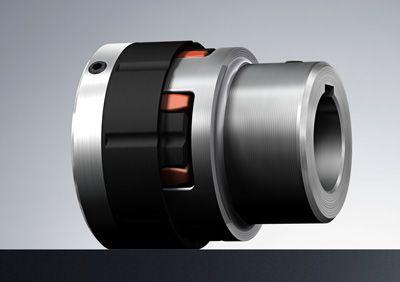 Hannover Messe Hall 25, as B24
Achema 9 Hall, Booth C4
KTR
has the family of
Torsionally flexible jaw couplings "Rotex"
extended by a variant for maintenance-free use in hazardous areas: The fail-safe "Rotex Non Sparking" can continue to operate safely even in case of wear of the damping element and reliably prevents any sparking. The cam geometry is made of conductive and high-strength plastic and is sprayed on the hub body, which are still made of steel or other metal materials such as aluminum.
The newly developed plastic prevents any static charge and is designed so resistant that even in the event of total wear of the elastomer, the torque is still transmitted without any risk of sparking. Maintenance work can be easily moved into a non-critical time window.
The fail-safe and maintenance-free Rotex Non Sparking is assessed for explosion protection and confirmed in accordance with EC Directive 94 / 9 / EC. The shaft coupling is axially pluggable and compact. It offers good dynamic properties, very good vibration damping and low moment of inertia. Precise machining has a positive influence on the running properties of the coupling and significantly increases its service life expectancy. The dog clutch ensures a torsional vibration-damping power transmission and absorbs shocks emanating from unevenly operating systems. The program also includes Doppelkardanische versions for large shaft displacements with low restoring forces and good dynamic properties.
The spraying of the cam geometry opens up a high product variance for the Atex range, for example with retracted hubs for a very short design. Customer- and application-specific shaft-hub connections can also be implemented here in a variety of forms.
---
Another contribution of the manufacturer
coupling configurator
CAD data
This e-mail address is being protected from spambots To display JavaScript must be turned on!