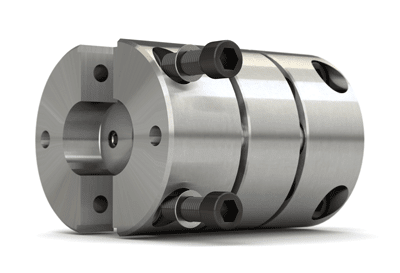 Motek Hall 5, 5321 Stand


The powerful "Roba-DS"
Couplings
by
Mayr Antriebstechnik
transmit the torque backlash and high torsional stiffness. They compensate for shaft misalignment and are wear and maintenance free. The clutch specialist expands now in sizes up 150 Nm his standard hubs for mounting the shafts to a radially split hub for easy and quick installation even under difficult ambient conditions.
Small dimensions, low installation space requirements, reduced weight and low mass moments of inertia offers the
Roba-DS servo clutch
, They can transmit high torques even with a comparatively small diameter and are thus very well suited as shaft couplings for dynamic drive systems with high speeds. The basis for the extremely compact design is the production of steel and high-strength aluminum alloys.
Due to the elastic plate packs, the couplings compensate for radial, axial and angular shaft misalignment. This protects the bearings from undesirable loading and prevents unnecessary downtime and costs. In order to achieve a play-free transmission of the torque, the lamellae are treated in the region of the clamping by a special blasting process. The disk pack couplings are robust, reliable, temperature-resistant, wear-free and maintenance-free and transmit the torque with very high torsional rigidity. Therefore, they are particularly suitable for use in extreme environmental conditions.
In sizes 3 to 15, the standard hubs for shaft mounting have been extended by a radially split hub or half-shell hub. At permissible speeds of 3000 min
-1
These sizes cover shaft diameters from 45 to 79 mm torques from 35 to 150 Nm. The half-shells ensure easy and quick assembly of the coupling, even under difficult environmental conditions. Thus, the hubs are preferably used in applications in which the drive units such as engine and transmission after positioning and aligning the assembly of the clutch may not be crazy. These hubs are also recommended for large shaft spacings such as cardan shafts in Hubspindelantrieben, since the coupling is installed at the end and therefore must be easy to assemble.
The assembly takes place radially: The coupling is supplied to the shafts and pre-assembled with the axially displaceable half-shells. It is important that the markings on the half-shells and the hub bodies are superimposed. Then the cylinder screws are tightened evenly and in several passes to the tightening torque. The Roba-DS is available as a double link couplings with connecting plate or variable length sleeve.
---
Another contribution of the manufacturer
This e-mail address is being protected from spambots To display JavaScript must be turned on!