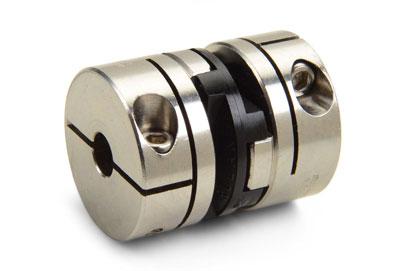 Ruland offers now Oldham couplings with hubs made of stainless steel 1.4305. Designers can now choose from an additional standard option when designing systems for corrosive, vacuum or cleanroom environments. The stainless steel couplings are backlash-free, can compensate for any offset shape and are structurally balanced.
Oldham clutches consist of two hubs and a centrally mounted disc for torque transmission. The three-part design of the couplings makes it easy for users to combine coupling hubs with holes in metric or imperial dimensions, with or without keyway, and with clamping or adjusting screw design. Oldham clutches are constructionally balanced for vibration-reduced applications and can be used at high speeds of up to 6000 min-1. Their bearing stress is low and they protect sensitive components such as bearings from premature failure. Thanks to the proprietary hub machining process, the drive elements offer longer life and reduced downtime.
The center disc of the Oldham clutch is available in different versions: acetal for backlash and greater torque transmission, polyetheretherketone (Peek) for high temperature and outgassing applications, and nylon for noise reduction and shock absorption. Oldham clutches also take on the function of a mechanical fuse in a torque overload, as the center disc breaks clean and stops the power transmission in the system.
Using 1.4305 stainless steel in combination with a Peek center disc, designers can now use a standard Oldham coupling for a wider range of servo drive applications, such as food and packaging, medical and scientific devices.
---
Another contribution of the manufacturer This e-mail address is being protected from spambots To display JavaScript must be turned on!
More news about couplings
Hannover Messe Hall 5, Stand D32 / 1 Expert knowledge At the moment, the multi-plate clutch is enjoying increasing demand from designers and developers of industrial drive technology against the background of the Ringspann product offensive, which has been running for two years. In the field of shaft couplings, this has led to the addition of numerous new types of couplings to the portfolio. This addresses the correct selection and design of the non-switchable, torsionally rigid shaft couplings at the Hannover Messe 2020.

Hannover Messe Hall 5, Stand E04 Intelligent machine elements provide important measurement data for transparency in the drive train. This is how they support efficient and predictive machine maintenance. At the Hannover Messe 2020, Mayr Antriebstechnik presents intelligent solutions for brake monitoring as well as new approaches for networked clutches. The drive specialist invites visitors to think along the new paths.

KBK Antriebstechnik has developed the KBGK and KBGK-T articulated couplings that connect shafts and components with extremely little play and even compensate for high radial and angular misalignments. They are made from high-quality materials such as aluminum and steel, are torsionally rigid in the circumferential direction and give in to radial forces and angular deviations.

The ball screw or trapezoidal screw is usually not connected to the drive journal of a motor or gearbox in a rigid manner, but via a flexible coupling. This can compensate for misalignments or misalignments and minimize vibrations and shocks in the drive train. Dr. Tretter now offers compact shaft couplings for this.

SPS Hall 3, Booth 419 Rigid couplings of the "Torqmax step bore" series from Orbit Antriebstechnik enable the play-free connection of shafts with different diameters thanks to their graduated bores. For a low mass moment of inertia, the couplings are made of aluminum, additionally anodized to prevent corrosion, and some are also available in stainless steel.

EMO Hall 5, Stand D89 The "Simple-Flex" series from Jakob Antriebstechnik is a new type of spacer coupling that can be manufactured up to a length of 6 m and does not require additional intermediate storage. A sophisticated composite tube with a multi-layer, angle-specific fiber configuration enables a particularly simple design that does not require any coupling compensation elements at the tube ends.

EMO Hall 3, Stand E22 Ringspann presents the new clamping coupling for fixing driven rotary swivel tables in multi-axis machining centers. Immediately after its first presentation last autumn, this mechanical-hydraulic high-precision solution has become the favorite of numerous well-known manufacturers of machine tools and swivel-swivel portals.

With its clutches and brakes, EMO Hall 8, Stand E45 Mayr Antriebstechnik offers complete solutions from a single source for the reliable protection of machine tools and machining centers. For example, a wide range of backlash-free, powerful servo couplings ensures a secure connection between the shafts. And a wide portfolio of reliable safety brakes is available to protect gravity-loaded axles.

Flender completes its "N-Arpex" coupling, which was introduced in 2017, and introduces two further expansion stages with eight and ten screw points. As a result, the coupling series covers a diameter of up to 988 mm and a torque of up to 2.000.000 Nm. Due to the compact design and an increased bore capacity, a size increase is also possible.
load More halt SHIFT to load everything load all