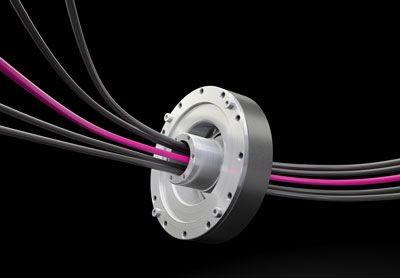 Hannover Messe Hall 15, as B05
Automatica Hall B6, Booth 308
The units of SHG series from Harmonic Drive are suitable for highly dynamic applications such as drives in robot axes. This is supported by the enormous torque density, the anti-tilting output bearing for direct support of the bearing loads, lifelong precision and freedom from play, increased service life of the kit and the large hollow shaft, which can be used to feed supply cables and shafts.
Compared to standard corrugated gearboxes, this series has 30% higher torque characteristics with unchanged dimensions. This allows higher dynamics and shorter cycle times for positioning tasks. Due to the 30% increased collision torque, the SHG series has a significantly increased robustness against shock loads. Due to an improved load distribution, the lifetime could also be increased by about 40%. The tilt-stable and high-precision cross-roller bearing also allows direct support of the bearing loads in the shortest possible space. As a corrugated transmission, the SHG units offer zero backlash and the highest transmission and positioning accuracy, which is maintained over the entire service life due to the inherent preload of the gearbox.
The units of the SHG series are available in three variants, which allow constructive flexibility in the integration into the application:
The SHG-2UH unit has a mounted and fully sealed hollow shaft for the passage of supply lines, shafts or cables for further drive systems. The drive is usually via a parallel set servo motor by means of belt or gear stage.
The Simplicity Units SHG-2SH and 2SO consist exclusively of the installation kit and the output bearing. By using the existing housing structure to support the bearings of the input shaft can be dispensed with a separate input and output flange and the total weight can be reduced. These units are therefore ideal for moving axes, such as in industrial robots.
The SHG-2SH unit has a central hollow shaft that can be used to feed shafts or supply lines of downstream axles. The hollow shaft is usually used directly as the rotor of the drive motor. The SHG-2SO unit uses an input-drilled wave generator and is ideal for the direct and space-saving connection of a servomotor.
The units of the SHG series are available in ten sizes with the 50, 80, 100, 120 and 160 reduction ratios with a repeatable peak torque between 23 and 3419 Nm.
---
Another contribution of the manufacturer This e-mail address is being protected from spambots To display JavaScript must be turned on!