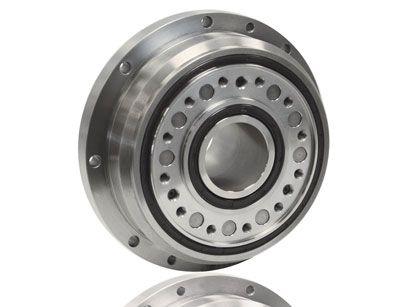 EMO Hall 11 stand G14
Sumitomo presents a new precision gearbox with hollow shaft and reinforced bearings. The
Gearbox F4CF-C 35
is specially designed for applications that require particularly high tilting torques and high tilting rigidity with high positioning accuracy. An integrated angular contact ball bearing allows higher loads on the output side, as can occur, for example, when used in machine tools, positioners and also in robotics.
The Sumitomo transmission has an 65 mm hollow shaft, through which supply lines, shafts and other media can be routed. The outer diameter of the gearbox only measures 220 mm, which makes it very compact and can therefore also replace the predecessor model F2CF-C 35 in machine designs if required.
Functionally, the precision gear follows the proven "cyclo" principle. The single-stage reduction gear runs due to the special contour of the cycloidal cam discs extremely low vibration with an optimal distribution of the occurring load forces. The high overlap of the cycloidal curve sections with the outer bolts and the uniform force distribution within the gearbox also ensure that the compact unit achieves a rated torque of up to 1082 Nm and an acceleration torque of up to 1962 Nm.
In the event of an emergency stop, the precision gears can be safely loaded up to five times their nominal torque. The integrated angular contact ball bearing allows downforce on the output side of up to 2551 Nm with a tilting stiffness of 1668 Nm / arcmin. The new size C 35 is the second smallest version in the series, which currently comprises five different sizes with different storage types.
Another size within the C-series with improved storage is already in development.
---
Another contribution of the manufacturer
This e-mail address is being protected from spambots To display JavaScript must be turned on!