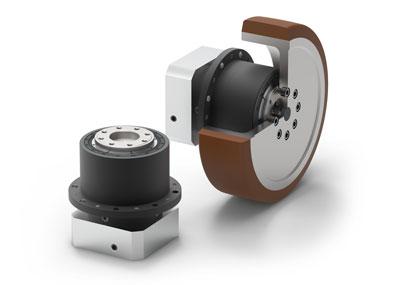 SPS hall 4, booth 280
With the newly developed NGV poses Neugart a planetary gear, which is specifically tailored with its product features for use in driverless transport vehicles (AGVs). A central role is played by the bearings: They are designed and placed so that they allow high radial loads at the output.
AGVs transport high loads in 24 / 7 continuous operation - and thus make their own, high demands on design and mechanics. Especially for the gearboxes used this means: Since the gearbox usually sits directly in the wheel of AGVs, depending on the chassis principle, the entire weight of the vehicle and the load acts directly on the output bearings of the gearbox. The result is high radial loads. In addition, the naturally tight space in the vehicle require a particularly compact, space-saving design of the transmission.
The NGV meets these special requirements with preloaded tapered roller bearings. These can absorb high forces due to their structure. The wheel does not need to be supported separately, but the bearings on the output take over the load.
The mounting flange of the gearbox is positioned so close to the chassis that it can be mounted directly there. Engine and gearbox can be pre-assembled as a unit and installed together. By using a wide variety of motor adapters, almost any motor can be mounted. The wheel itself is mounted from the outside directly to the flange output shaft and can thus, if necessary, for. B. in case of maintenance, can be exchanged quickly and easily.
---
Another contribution of the manufacturer This e-mail address is being protected from spambots To display JavaScript must be turned on!
More news about gearboxes
With the free Motor Gear Configurator, users can put together the most cost-efficient and energy-efficient motor configuration and gear design for their application. The proven Neugart Calculation Program (NCP) is now available as a user-friendly configuration tool in the new software version NCP 4.2. Customers of the transmission specialist can now download the new version from the company's website.

When it comes to the production and processing of thermoplastic, extrusion has established itself as the most important manufacturing process. Nord Drivesystems offers an extruder gear specially for use in extruders, which is optimized for heavy-duty use. In addition to the powerful Maxxdrive industrial gearbox, Nord also produces entire drive solutions in extruder design.

SPS Hall 4, Booth 280 With the newly developed NGV, Neugart is introducing a planetary gearbox with product features that are specifically tailored for use in driverless transport vehicles (AGVs). The bearings play a central role here: they are designed and positioned so that they allow high radial loads on the output.

SPS Hall 4, Booth 280 The new standard PFHE gearbox of the Neugart Economy Line offers an attractively priced alternative for high-load applications in which high radial loads occur, but the accuracy of a reduced-precision gearbox is not absolutely necessary. The planetary gear has two special, preloaded angular roller bearings that can withstand high forces despite their compact design.

EMO Hall 7, Stand C46 Technical Article A complete virtual image of drive trains and gearboxes is only possible if gearbox, roller bearing and gear specialists can digitally link their simulation models. Therefore, cross-company and cross-system data exchange is one of the most important prerequisites for the generation of digital twins. Schaeffler and SEW have created such a data exchange.

EMO Hall 8, Stand E22 Wittenstein will present, among other things, the "galaxy" drive system in a compact version. The company will also be presenting smart gearboxes that are equipped with industry-standard integrated sensors and have IO-Link connectivity.

Nord Drivesystems offers powerful drive systems for bulk goods transport. Reliable, safe and robust, these ensure smooth operation even in the toughest environmental conditions. They can be individually controlled for precise, dynamic bulk material feed control.

Logimat Hall 3, Booth B19 ABM Greiffenberger is presenting suitable bevel gears from ABM for intralogistics, which are available in 2- and 3-stage versions. They offer a high degree of efficiency of over 90% and are therefore much more efficient than worm gears with an efficiency of only 40 to 70%.

The new planetary gearheads from Framo Morat offer high gear quality, low backlash and long life. The G-series includes the high-end gearboxes GSD (flange gearbox), GSB (inline) and GSBL (bevel gearbox) as well as the high-end economy series GSN and GFE.
load More halt SHIFT to load everything load all