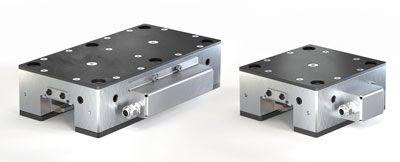 The stepless holding brake SHB of Leantechnik Clamps loads quickly, without play and with high rigidity. It reduces the risk of danger on gravity-loaded axles and increases the service life of the system. Its Fail Safe function guarantees the direct and secure fixation of the load even in the event of a pneumatic failure.
The operating principle of the SHB is simple but effective: the piston chamber is filled with compressed air so that the force of the preloaded disc springs is released and the brake shoes connected to it release the profile rail. If there is an interruption of the compressed air supply, the spring force acts on the brake shoes, which then clamp or brake the rail.
The SHB achieves nominal holding forces of up to 7500 N in the available versions, and even up to 30.000 N with the supplied pressure booster. The booster is always used when the pressure available in the compressed air system is insufficient to operate the SHB. Without booster the brake is operated with a pressure of 6 bar, with the booster up to 20 bar are possible. The purely mechanical increase of the pressure by the booster is much cheaper than a general increase of the system pressure. Users save a considerable amount of energy costs.
The use of the SHB not only increases the plant's safety, it also increases the process accuracy, because the NC-axis undergoes additional reinforcement due to the backlash-free clamping.
---
Another contribution of the manufacturer This e-mail address is being protected from spambots To display JavaScript must be turned on!