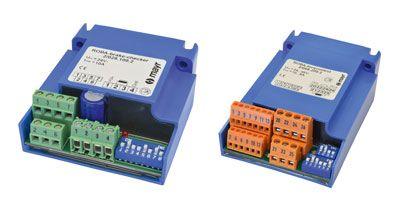 SPS IPC Drives Hall 4, 278 Stand
Two intelligent drive modules from
Mayr Antriebstechnik
make brakes fit for the challenges of the 4.0 industry and enable preventive fault detection and maintenance: With the intelligent module "
Roba-torqcontrol
"(Right), brake reactions can be adapted and machines can be stopped. In addition, the module "
Roba-brake-checker
"(L.) To switch state, temperature, wear and traction or tractive force reserve.
If Roba-torqcontrol is used in a closed-loop system, it is possible to run defined deceleration ramps, ie to brake the machines smoothly and according to the requirements. The module can be operated either with 24 or 48 V DC voltage and can control brakes with a coil nominal current of 10 or 5 A. With two digital inputs, the resulting contact pressure on the brake pads can be set to 30, 50, 75 or 100% of the nominal spring force. Alternatively, a stepless analogue preset signal from 0 to 10 V (30-100%) is possible.
The Roba-brake-checker module is an intelligent solution for monitoring the brakes. Roba-torqcontrol shares the monitoring function and can also control brakes. Both modules work without a sensor. Instead, they analyze current and voltage, thereby detecting the movement of the armature disc. So they know in what condition the brake is. In addition to the switching state, the modules can also conclude on temperature, wear and tensile or traction reserve. It detects whether the magnet still has enough power to tighten the armature disc. With the new modules, therefore, significantly more processes are being imaged than previously, for example with Hall sensors or microswitches or inductive proximity switches. The Roba brake checker is now also available in an AC voltage version. In addition, in another version, the module will in future also supply the brake and thus replace the rectifier. Switching state monitoring and brake control are thus combined in one device.
---
Another contribution of the manufacturer
This e-mail address is being protected from spambots To display JavaScript must be turned on!