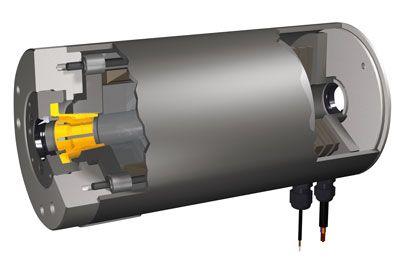 EMO Hall 25, Booth A32, Motek Hall 8, 8409
FMB Hall 20, booth C31
The "
Roba-linearstop "safety brakes
For heavy-duty vertical axes reliably protect persons and material in machines and plants. For applications where no compressors or units for compressed air and oil hydraulics are used
Mayr Antriebstechnik
An electromagnetic version of the linear brakes series. The fluid-free version ensures a clean braking solution, especially in the medical or food industry.
Roba-linearstop reliably hold vertical axes in any position during power failure or emergency stop. The electrical wiring can be inexpensively and easily laid, expensive components such as directional control valves, quick exhaust valves and pressure hoses or piping omitted. On the other hand, where a pneumatic network or hydraulic system is already installed, users can fall back on the proven pneumatic or hydraulic versions of the Roba-linearstop linear brake, depending on the particular application. All three brake versions of the series operate on the fail-safe principle, ie they are closed when de-energized. The braking force is generated by compression springs.
As a compact brake unit, the Roba-linearstop can be easily and quickly integrated into already existing machine and plant designs without the need for time-consuming adjustments. It acts on a separate brake rod. This rod shifts axially during the process in the brake. Closes these, the brake rod is kept free of play. The Roba-linearstop works without self-reinforcing wedge effect and thus acts in both directions of movement. Due to the force generation without wedge effect and the very short reaction time, the axle does not sag when closing. In addition, the clamping for releasing the brake does not have to be freed.
The linear brakes available on the market today usually function as static clamping units and are designed to hold the axles at a standstill. However, persons can also remain under suspended loads during commissioning, maintenance or even during the production process, without first transferring the load to the mechanical linear brake. If the drive fails completely in these operating states, the linear brake alone is responsible for safely decelerating the load. That's why the Roba-linearstop safety brakes are more than just clamping units. They are designed to hold the load safely and are also suitable for emergency braking.
---
Another contribution of the manufacturer
Product catalogue
This e-mail address is being protected from spambots To display JavaScript must be turned on!