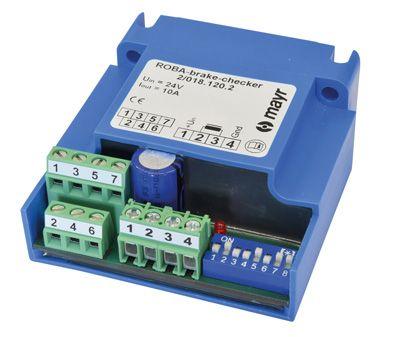 technical articles
Motek Hall 6, Booth 6325 / 3 EMO Hall, Booth L14
The monitoring of electromagnetic safety brakes disengaged currently increasingly into focus. has to meet this trend Mayr Antriebstechnik the intelligent Bremsenansteuermodul "Roba-brake-checker" developed. The module can not only energize brake but also monitor sensorless. It can be flexibly and easily integrated into existing systems.
With the increasing networking of people, processes and machines, the demands placed on the individual components of a powertrain are also increasing. The drive specialist therefore faces the current challenges of the 4.0 industry. and already has intelligent products in the program that can communicate with the higher-level controllers. The latest developments include the intelligent brake control module Roba-brake-checker, which can not only energize safety brakes but also monitor them without sensors. It detects the switching state of the actuator as well as wear of the brake pads and thus detects safety-critical conditions before they occur. Possible changes in the braking torque can thus be detected immediately and countermeasures initiated. Highest functional and operational safety is guaranteed.
More power, less effort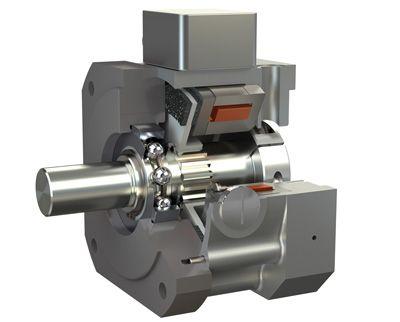 The module Roba-brake-checker is used to operate safety brakes with power reduction while monitoring their switching state. It is designed to accept either 24 or 48 V DC input voltage and can drive 10 or 5 A regenerative braking. Compared to the previous fast-acting rectifiers, the new module not only offers higher power, but also a larger input voltage range of 18-30 VDC or 42-54 VDC and a regulated output voltage at setback. In addition, a higher clock frequency is possible. The module detects reliably when the brake changes state or when the armature disc has been tightened or dropped. The respective switching state of the brake is output by the module via a signal output. Thus, with the brake-checker, the switching state of spring-applied brakes in machines and systems can also be detected without the usual microswitches or proximity switches.
The module works reliably and wear-free without mechanical contacts - regardless of the frequency and number of cycles. The additional cabling and possible sealing of the switches and initiators is therefore also eliminated. In addition, with sensorless condition monitoring, it is possible to automatically adjust the overexcitation time. Thus, an integrated automatic control after a brake-specific overexcitation time to the set Absenkspannung. The automatic can be switched off via a DIP switch and set manually to specific, preset values.
Recognize mistakes before they happen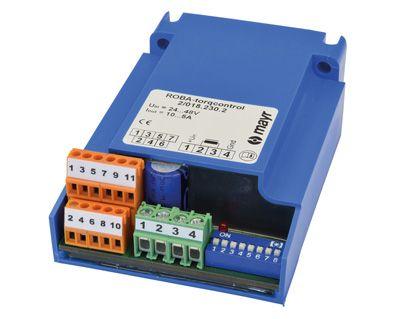 By comparing pull-in current and holding current, the brake control module closes for a possible wear reserve and line break or, if necessary, detects inadmissible heating. As a result, it detects safety-critical conditions and faults before they occur, thereby ensuring maximum operational safety for machines and systems. The new monitoring module is flexible for a broad "
Roba-stop "brake spectrum
can be used and easily, quickly and inexpensively inserted into existing systems. With its compact dimensions of 30, 69 and 73,6 mm, it can be easily integrated into control cabinets.
Braking movements intelligently
For applications requiring brake torque control in addition to condition monitoring, Mayr offers the "Roba-torqcontrol" braking torque control module. It shares the characteristics of the Roba-brake-checker and can also change the amount of braking torque during operation by deliberately influencing current and voltage. Devices and machines can be decelerated smoothly and smoothly. With the Roba-torqcontrol, control loops can be set up and movements can be braked intelligently - ideal conditions for use in the smart, networked machine.
Picture above: The module Roba-brake-checker can not only energize brakes but also monitor them sensorless. This opens up new possibilities for monitoring safety brakes.
---
development scout TV - Interview
Another contribution of the manufacturer
This e-mail address is being protected from spambots To display JavaScript must be turned on!