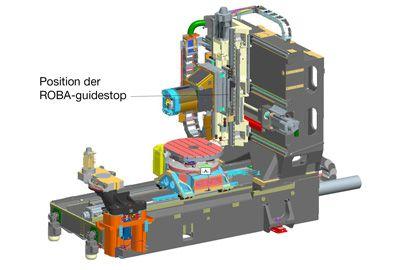 Suspended loads put in machinery and equipment is a major potential threat. The backlash-free, high-rigidity "
Roba guide stop "-Profilschienenbremsen
by
Mayr Antriebstechnik
here make for maximum security. Now the series has been supplemented sizes to continue. Thus, the brake concept includes eight sizes that cover holding forces of 5 34 to kN.
If there is an unintentional sinking or falling of suspended loads, they must be brought to a standstill within a very short time. Reliable safety brake for profiled rail guides Roba-guidestop brakes movements safely and quickly and clamps the axes during the running process stiff and backlash-free.
The innovative braking concept clamps with very high rigidity directly onto the linear guide. The profile rail brakes are thus directly attached to the masses that are to be braked or held. This brings a decisive advantage, especially with gravity-loaded axles, when the risk of danger to persons is to be minimized: Drive elements between the motor and the moving mass such as the spindle, spindle nut, shaft coupling or gearbox have no influence on safety.
The safety brakes work according to the fail-safe principle, ie they are closed when de-energized. Despite the very high holding forces, a relatively low nominal pressure of 70 bar is sufficient for hydraulic ventilation. The brake mechanism is designed for relatively long strokes and compensates for manufacturing tolerances in the profile rails - without loss of braking force. The Roba-guidestop are designed with two independent brake circuits: this allows either double holding forces or a redundant design.
The backlash-free clamping additionally stiffens the NC axis. This increases the process accuracy, increases the cutting performance and brings advantages in heavy-duty cutting. The machining is less vibration which positively influences the surface quality of the workpiece.
---
development scout TV - Interview
Another contribution of the manufacturer
This e-mail address is being protected from spambots To display JavaScript must be turned on!