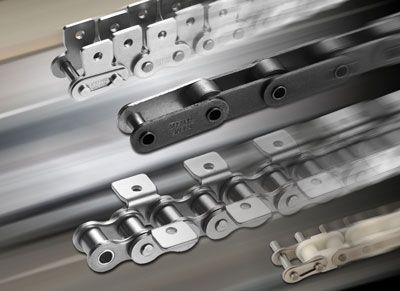 technical articles
The drive elements "chain" is in principle a simple component. But once it fails, it can cause high costs through an unplanned production shutdown. Of course, regular inspections should ensure smooth operation. But it is even better if the quality of the chains does not require any maintenance at all. Thanks to its 100 know-how, Tsubaki offers numerous chain innovations that significantly reduce maintenance.
During the 100 years of its existence, the manufacturer of power products has always focused on the research and development of its products. In doing so, the Japanese company not only keeps an eye on the ever-changing needs of the market, but also proactively considers future requirement profiles, which the developers finally anticipate. In order to be technologically and ecologically up-to-date, the drive specialist also continuously modernizes its production facilities. The ecological references developed are exemplary.
Standard premium chain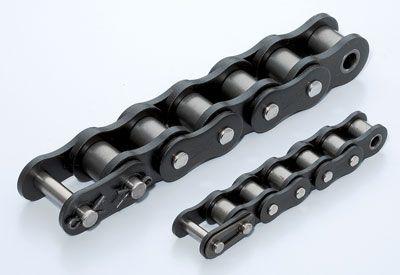 The drive specialist sees the BS / DIN GT4 Winner chain as furthest advanced. The extended European premium chain from BS / DIN has already been launched in the fourth generation. Their key design features include the patented grease bushings. They ensure a long-lasting lubrication between pin and bushing and thus facilitate maintenance work. The seamless bushes with high-precision cylinder profile guarantee optimum power transmission in the chain joint to the bolt. The bolts were riveted down for easy disassembly. In addition, the patented punch ring compression of the closure tab increases the strength of the closure member to 100% of the base chain, which ensures the transmission capacity of the base chain. The product is available in chain sizes from RF06B to RS48B in simplex, duplex and triplex versions.
Low maintenance roller chain
One of the key innovations of the supplier was the development of the low-maintenance "Lambda" roller chains. They were the first in the industry to be fitted with oil-impregnated sintered bushes. The lambda chain was introduced to 1988 and is now indispensable for many applications as a standard chain. Among many variants, there are also versions for high temperatures and for use in food processing. They are supplied as standard with the food grade lubricant "NSF-H1".
The lambda chain also runs clean, reducing the risk of contamination of products, machinery, work areas, etc. In addition, the detailed design of the chain components allows easy and quick assembly and disassembly, minimizing machine downtime. The lambda chain is interchangeable with many other types of chain so that machines can benefit from a significant increase in performance when switching.
Roller chain for the Aggressive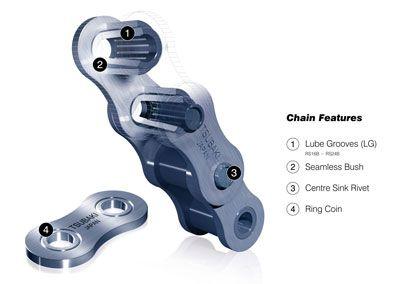 For use in humid environments or under alkaline cleaning agents, TSUBAKI has developed the "Neptune" chain. All components of this chain, such as link plates, bushes and bolts, have undergone a special surface treatment. Two protective layers are applied for resistance to acids, bases, aggressive chemicals, seawater, acid rain and other adverse environmental and climatic conditions. The surface treatment also protects the rollers of the Neptune chain from contact wear and damage when used under heavy load or at high speed.
The drive specialist also focuses on sustainability in all its activities. Therefore, TSUBAKI has developed its surface treatment so that no chemically hazardous substances such as hexavalent chromium, lead, cadmium or mercury are used. Because the nominal power of the Neptune chain is identical to that of the GT4 Winner chain, easy retrofitting is possible if reworking an existing machine requires it. The Neptune chain can also be combined with Lambda technology to take advantage of both products.
In addition to the BS, DIN and ANSI specification chains, the drive specialist also manufactures plastic and stainless steel chains suitable for marine and other corrosive environments. Even applications in which the chains are exposed to extreme sanitary conditions or aggressive, corrosive chemicals or extreme temperatures are predestined for this roller chain.
References and retrofit
A good reference is worth a thousand words: That's what maintenance engineers see it. Tsubaki has already convinced many of them and has demonstrated some of the benefits of his chains through retrofit projects. The following three examples give an insight:
Example 1 refers to global warming and the increasingly humid climate. Both are a major issue for water and environmental engineers working in the Norfolk Broads and Somerset Levels. Even in the lower-lying areas such as the Mississippi Delta, in Bangladesh or in the highlands with increasing glacier melt, the climatic conditions are increasingly demanding the components used there. Engineers must be confident that their locks and other flow controls, as well as flood control equipment, are working reliably. Many of them have in the past switched to TSUBAKI chains without lubricant. Because they are very reliable even if they are unattended for a long time.
Example 2 concerns a material that is ideal for bonding machines: the sawdust finds its way into all corners of moving parts, it absorbs lubricants and causes blockages. When a fabric manufacturer struggled with similar problems with paper dust on a wood saw conveyor, the Tsubaki engineers recommended a change to the lambda chain. The replacement resulted in immediate improvements on multiple fronts: the chain remained flexible and smooth, allowing continuous operation for much longer. Thus, the productivity could be increased. And because no regular relubrication was required, the operator could save significant costs, while the removal of contaminants also improved product quality.
Example 3 comes from medical technology: In medical devices such as CT scanners, MRI and X-ray machines motor-driven drive systems are used. This allows components of the devices or patients themselves to be lifted, transported, tilted or rotated. These movements must be precise and repeatable while the equipment must be both quiet and extremely reliable. The drive specialist supplies many of the world's leading manufacturers of such devices with low-maintenance chains. In addition, the company works directly with manufacturers to develop tailor-made chains or special attachments.
---
Another contribution of the manufacturer This e-mail address is being protected from spambots To display JavaScript must be turned on!
More news about drive elements
Hannover Messe Hall 5, Stand D32 / 1 Expert knowledge At the moment, the multi-plate clutch is enjoying increasing demand from designers and developers of industrial drive technology against the background of the Ringspann product offensive, which has been running for two years. In the field of shaft couplings, this has led to the addition of numerous new types of couplings to the portfolio. This addresses the correct selection and design of the non-switchable, torsionally rigid shaft couplings at the Hannover Messe 2020.

Hannover Messe Hall 5, Stand E04 Intelligent machine elements provide important measurement data for transparency in the drive train. This is how they support efficient and predictive machine maintenance. At the Hannover Messe 2020, Mayr Antriebstechnik presents intelligent solutions for brake monitoring as well as new approaches for networked clutches. The drive specialist invites visitors to think along the new paths.

Logimat Hall 1, Stand A08; FMB South Stand C7 Habasit offers high-quality toothed belts from the Habasync series with practical mechanical end connections for quick changes. This means that the operating costs of conveyor lines can be reduced through short assembly and maintenance processes, such as when changing timing belts. Endless belts can alternatively be connected to mobile heating presses directly on site. This significantly reduces downtimes when changing a toothed belt.

Case Study A British car manufacturer had a problem with the maintenance of the conveyor chains that power its lanyards. This is used to transport the assembling car body components. The roller chain had to be replaced too often, otherwise it would have caused production to stop. The problem was solved by converting to a special conveyor chain from Tsubaki. To do this, only the TCO costs had to be put in the foreground instead of the purchase price.

KBK Antriebstechnik has developed the KBGK and KBGK-T articulated couplings that connect shafts and components with extremely little play and even compensate for high radial and angular misalignments. They are made from high-quality materials such as aluminum and steel, are torsionally rigid in the circumferential direction and give in to radial forces and angular deviations.

The ball screw or trapezoidal screw is usually not connected to the drive journal of a motor or gearbox in a rigid manner, but via a flexible coupling. This can compensate for misalignments or misalignments and minimize vibrations and shocks in the drive train. Dr. Tretter now offers compact shaft couplings for this.

SPS Hall 3, Booth 419 Rigid couplings of the "Torqmax step bore" series from Orbit Antriebstechnik enable the play-free connection of shafts with different diameters thanks to their graduated bores. For a low mass moment of inertia, the couplings are made of aluminum, additionally anodized to prevent corrosion, and some are also available in stainless steel.

SPS Hall 4, Booth 278 Mayr Drive Technology presents new versions of the "Roba-brake-checker" module, which can now also be used to monitor small brake sizes. This opens up new possibilities for brake monitoring - especially with spring-applied brakes in servomotors and for applications in robotics and automation.

EMO Hall 5, Stand D89 The "Simple-Flex" series from Jakob Antriebstechnik is a new type of spacer coupling that can be manufactured up to a length of 6 m and does not require additional intermediate storage. A sophisticated composite tube with a multi-layer, angle-specific fiber configuration enables a particularly simple design that does not require any coupling compensation elements at the tube ends.
load More halt SHIFT to load everything load all