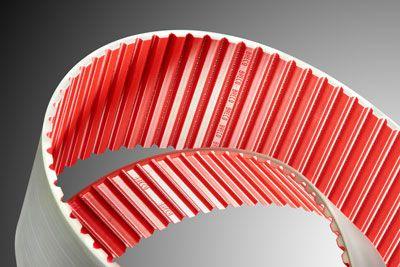 Mulco is expanding his High performance timing beltFamily "Move" to a new division with 15 mm. As with the versions in 10 mm pitch, a significantly increased belt rigidity was also the most important development goal for the 15 mm pitch. This is of particular importance because the load capacity of a toothed belt transmission is usually limited not by the tensile strength of the toothed belt, but by its rigidity.
The performance limit is reached when the belt pitch due to stretching under load becomes so great that the single tooth on the toothed disc no longer runs smoothly.
Despite the stronger tension member in the AT15 Move timing belts, standard toothed pulleys can still be used. In order to be able to transfer the larger moments cleanly and wear-free, the tooth flank has also been optimized for FEM. A tooth-side laminate reduces friction and leads to a smoother running of the toothed belt. A smaller minimum diameter with and without counterbending meets the customer's request for more compact drives.
The Brecoflex Move are available in the widths 25, 32, 50, 75 and 100 mm. Apart from larger transmittable torques, users benefit from higher positioning accuracy and shorter settling times for dynamic drives. Alternatively, steeper start and stop ramps can be driven.
The endless version "Brecoflex move AT15 "is available now. By the meter, it will be available to 2018 as of the third quarter.
---
Another contribution of the manufacturer This e-mail address is being protected from spambots To display JavaScript must be turned on!