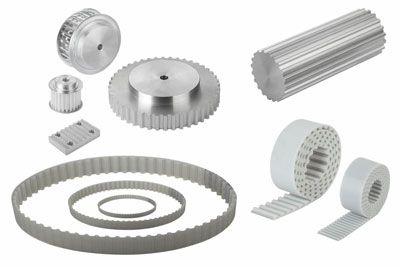 Timing of Norelem
made of a special polyurethane elastomer and high-strength steel cords. This material allows for the same dimensions up to 30% more power than conventional T or AT toothed belt or the same performance with smaller dimensions of the drive. They are maintenance-free and quiet, resistant to environmental influences and excellent durability.
Timing belts together with toothed belt pulleys form a compact drive with high power density and outstanding efficiency. The polyurethane timing belts are suitable for linear technology, conveyor technology and power transmission, among others. They are made of a special polyurethane elastomer and high-strength steel tension members, which are processed in their own casting process into endless polyurethane timing belts with superior properties. The timing belts offer high power transmission in various industrial applications such as machine tools, industrial robots or packaging machines. They are available in the standard length range from 165 to 2250 mm.
The toothed belt by the meter is manufactured in standard roll lengths to 100 m and delivered in any desired length. Their high precision, length stability and very good abrasion resistance make them ideal for linear drives. The application range of the belts is from -30 ° to + 100 ° C. They are chemically resistant to greases, oils and fuels.
The metric timing belt pulleys differ according to the trapezoidal tooth profiles T according to DIN 7721 T2 and AT for the corresponding timing belts T5 to T10 according to DIN 7721 T1 and AT5 to AT10. The matching toothed washers are made of high-quality aluminum while adhering to the smallest tolerances. They are centered or pre-drilled. Dowel holes and keyways can be inserted if required. In addition, the manufacturer offers toothed shafts for producing their own toothed discs and clamping plates for attaching the open toothed belts.
The timing belts and timing belt pulleys are available from stock 1 from stock.
---
Another contribution of the manufacturer
This e-mail address is being protected from spambots To display JavaScript must be turned on!