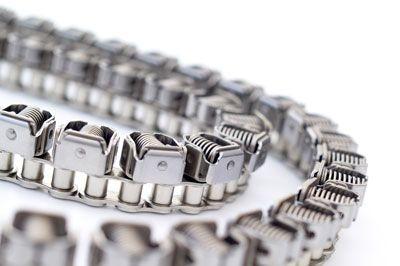 The packaging of food is often quickly and hygienically on thermoforming machines. Suggests here z. B. the packaging material wrinkles, it comes to machine failure. A non-negligible element in the conduct of sheets by the machine is the
Gripper chain
Tsubaki. This is based on a powerful roller chain conveyor chain must operate reliably to ensure the required production output. You can save in construction and later in the aftermarket business manufacturing and maintenance costs.
Thermoformers must all meet a range of hygiene, performance and reliability standards. Often, these machines are designed specifically for a very specific production line. Therefore, the manufacturing and maintenance costs can vary greatly. Manufacturers of the food processing industry are also trying to reduce costs by purchasing spare parts. At the latest here, the drive specialist contributes to the reduction of the total cost of ownership with its conveyor chains.
A good example is provided by a machine for food packaging: The gripper chain built into it grips the film and guides it precisely through the machine, where the food is filled, sealed and packaged. The basic design uses special attachments in the form of the grippers, which hold the film in position throughout the packaging process. The grippers open at the beginning and at the end of the conveyor line by means of special sprockets. Because conventional grippers often open vertically, resulting in only a small opening gap, this can lead to the film not being properly threaded and wrinkles when being transported through the machine. The construction of the gripper allows a larger opening gap for threading the film and thus prevents wrinkling. The chain uses a spiral spring with square cross section, which is usually larger than in conventional designs.
The gripper chains are in stock in Dordrecht and will be delivered within a short time within the European area.
---
Another contribution of the manufacturer
This e-mail address is being protected from spambots To display JavaScript must be turned on!