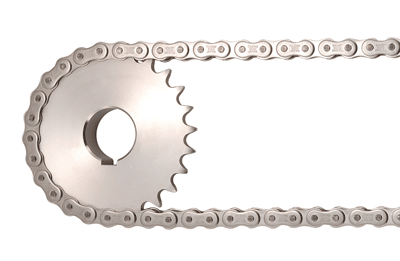 Often today with chain drives on the system size optimally sized systems are required using the full capacity. The fulfillment of these requirements, however, can be complicated by adverse environmental conditions. For equipment or systems that require a sanitary environment, corrosive chemicals are exposed, are heated to extreme temperatures, passing through cold rooms or are exposed to difficult weather conditions, provides
Tsubaki
specially developed and tested drive chains on.
In the stainless steel version, the SS, AS and NS chains offer three variants that are extremely resistant to corrosion, chemical attack and extreme heat. Frequent applications are found in the food and pharmaceutical industries or in kilns. These stainless steel chains are popular in packaging machines, the production of semiconductors and electrical equipment, or where otherwise a very clean operating environment is required.
Hybrid chains such as the PC, PC-SY and LSC series complete the range of pure stainless steel chains. An essential feature of hybrid chains is the combination of stainless steel and plastic. The chain link is virtually self-lubricating and dispenses with the use of a lubricant. Compared to the pure stainless steel chains, this allows a cleaner and quieter operation with a longer service life with almost the same power transfer and high corrosion resistance. Hybrid chains are used in the food and chemical industries as well as in special conveyor lines and in all applications where clean, corrosion-free operation is essential.
For applications in the steel industry, materials handling, outdoor facilities and larger car washes, the drive specialist has carbon steel chains with special coatings. These serve as corrosion protection against the prevailing environmental conditions such as water, salt spray, cleaners, etc. while fulfilling the high performance requirements. The coated carbon steel chains of the NP and NEP series have a broad spectrum and enjoy a high level of acceptance by problem-solution-oriented users.
For very harsh environmental conditions, such as resistance to extremely aggressive fluids or avoidance of pitting corrosion, the drive specialist has special solutions such as the TI or APP chain at hand. These are chains made of titanium, other special materials or specially coated. Battery manufacturing, dry cleaning, freezer production and extreme refrigeration applications, as well as applications of strong acids or alkalis benefit particularly from these chains.
---
Another contribution of the manufacturer
This e-mail address is being protected from spambots To display JavaScript must be turned on!