Success Story
A British one Automobile- Manufacturer had a problem servicing the conveyor chainsthat drives his lanyards. This is used to transport the assembling carBodySilo equipment. The Roller Chain had to be replaced too often, otherwise it would have caused production to stop. By converting to a special conveyor chain from Tsubaki the problem could be solved. Only they had to TCO instead of the purchase price.
In automotive assembly, the machines and systems used must run 24 hours a day all year round. Otherwise downtimes quickly cost thousands of euros a minute. Unfortunately, many managers still see the drive chain as a product and make their purchase decisions based on the price. You'd be better off throwing performance and quality into the balance.
Small conveyor chain with a big impact
In der Karosserie-Montage von Autos transportieren oft Überkopfförderer die Autoteile von einer Arbeitsstation zur nächsten. Die mit Förderketten angetriebenen Fördersysteme stellen damit einen wichtigen Teil des Materialflusses dar. Fällt hier eine Förderkette aus, steht ein großer Teil der Produktionslinie über mehrere Prozessschritte still. Spezialketten bieten hier eine vielfach höhere Lebensdauer als Standardketten – besonders wenn es um Hochleistungsanwendungen geht.
Auch eines der größten britischen Automobil-Montagewerke hatte dieses Problem. Die in die Hängebahn eingebaute Kette war alle zwölf Monate auszutauschen und vierteljährlich zu warten. Um sicher zu gehen, wurden die Förderketten alle drei Monate geschmiert. Dennoch wurde sie wurde steif und schwergängig. Zudem verursachten Staubpartikel eine Verunreinigung. Das führte zu Verschleiß. Die Förderkette brach meist bereits vor Ablauf der zwölf Monate.
Wechsel auf Spezial Förderketten empfohlen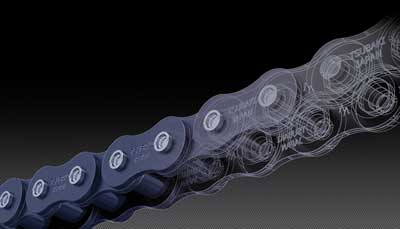 Die Betriebsleiter musste das ändern und wand sich an den führenden Hersteller antriebstechnischer Produkte Tsubaki. Die Experten stellten ermittelten, dass sich die ursprünglich eingebaute OE-Kette nicht für den Hochleistungsbetrieb eignete. Also schlugen sie vor, die OE-Kette durch eine Qualitätskette zu ersetzen. Zudem sollten die neuen Förderketten einen Mehrwert für die Produktionslinie bieten und niedrigere Gesamtbetriebskosten Total Cost of ownership (TCO) ergeben. Die Tsubaki-Ingenieure empfahlen daraufhin den Wechsel auf eine wartungsfreie, selbstschmierende Kette der "Lambda"-Serie. Damit entfiel die manuelle Schmierung. Das reduzierte die Wartungskosten und Ausfallzeiten.
Lifetime of the conveyor chain doubled
Um die Lebensdauer der Antriebskette zusätzlich zu steigern, entwickelten die Ingenieure eine spezielle Deckplatte, die an jedem zweiten Kettenglied über den Bolzen angebracht wurde. Damit konnten die Verschmutzung reduziert und die Rollenkette vor Verschleiß geschützt werden. Die zur Befestigung der Deckplatten verwendeten Nieten ersetzte man durch hochfeste Schrauben, die mit einem Sicherungskleber in Position gehalten werden.
Nach dem Produktvergleich und dem Austausch der Ketten funktioniert das Fördersystem in der Regel länger als zwei Jahre zuverlässig. Das ist mehr als die doppelte Lebensdauer der OE-Kette.
---
Another contribution of the manufacturer This e-mail address is being protected from spambots To display JavaScript must be turned on!
Weitere News über Antriebselemente
Anwenderbericht Ein britischer Automobil-Hersteller hatte ein Problem bei der Wartung der Förderketten, die seine Hängebänder antreibt. Dieses dient zum Transport der montierenden Auto-Karosserie-Bauteile. Die Rollenkette musste zu oft ausgetauscht werden, sonst hätte sie einen Stillstand der Produktion verursacht. Durch den Umbau auf eine Spezial-Förderkette von Tsubaki konnte das Problem behoben werden. Dazu mussten nur die TCO-Kosten anstatt des Einkaufspreises in den Vordergrund gestellt werden.

KBK Antriebstechnik hat die Gelenkkupplungen KBGK und KBGK-T entwickelt, die Wellen und Bauteile extrem spielarm miteinander verbinden und selbst hohen Radial- und Winkelversatz ausgleichen. Sie werden aus hochwertigen Materialien wie Aluminium und Stahl gefertigt, sind in Umfangsrichtung verdrehsteif und geben bei radial wirkenden Kräften sowie bei Winkelabweichungen nach.

The connection of a ball screw drive or a trapezoidal screw to the drive journal of a motor or gearbox is usually not done rigidly, but via a flexible coupling. This can be used to compensate for center offsets or misalignments and to minimize vibrations and shocks in the drive train. Dr. Tretter now offers compact shaft couplings for this.

SPS Halle 3, Stand 419 Starre Kupplungen der Serie "Torqmax step bore" von Orbit Antriebstechnik ermöglichen durch ihre abgestuften Bohrungen die spielfreie Verbindung von Wellen mit unterschiedlichen Durchmessern. Für ein geringes Massenträgheitsmoment sind die Kupplungen aus Aluminium gefertigt, zusätzlich korrosionsgeschützt eloxiert und teilweise auch in Edel Stahl erhältlich.

SPS Hall 4, Booth 278 Mayr Drive Technology presents new versions of the "Roba-brake-checker" module, which can now also be used to monitor small brake sizes. This opens up new possibilities for brake monitoring - especially with spring-applied brakes in servomotors and for applications in robotics and automation.

EMO Halle 5, Stand D89 Die Baureihe "Simple-Flex" von Jakob Antriebstechnik ist eine neuartige, Distanzkupplung, die bis 6 m Baulänge gefertigt werden kann und ohne zusätzliche Zwischenlagerung auskommt. Durch ein ausgeklügeltes Composite-Rohr mit einer mehrlagigen, winkelspezifischen Faserkonfiguration ist ein besonders einfaches Design möglich, das ohne sonst nötige Kupplungs-Ausgleichselemente an den Rohrenden auskommt.

EMO Halle 3, Stand E22 Ringspann präsentiert die neue Spannkupplung für das Fixieren von angetriebenen Dreh-Schwenktischen in Mehrachsen-Bearbeitungszentren. Unmittelbar nach ihrer Erstvorstellung im vergangenen Herbst hat sich diese mechanisch-hydraulische Hochpräzisionslösung zum Favoriten zahlreicher namhafter Hersteller von Werkzeugmaschinen und Dreh-Schwenkportalen entwickelt.

With its clutches and brakes, EMO Hall 8, Stand E45 Mayr Antriebstechnik offers complete solutions from a single source for the reliable protection of machine tools and machining centers. For example, a wide range of backlash-free, powerful servo couplings ensures a secure connection between the shafts. And a wide portfolio of reliable safety brakes is available to protect gravity-loaded axles.

Flender komplettiert seine 2017 vorgestellte "N-Arpex"-Kupplung und führt zwei weitere Ausbaustufen mit acht und zehn Verschraubungspunkten ein. Dadurch deckt die Kupplungsserie einen Durchmesser bis 988 mm und ein Drehmoment bis 2.000.000 Nm ab. Durch die kompakte Bauart und eine vergrößerte Bohrungskapazität wird zudem ein Baugrößensprung möglich.
load More halt SHIFT to load everything load all