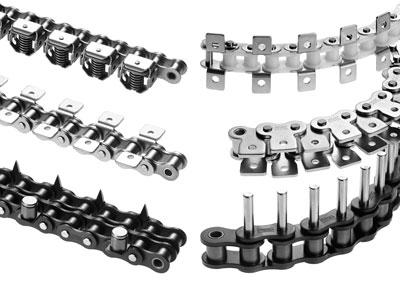 Hannover Messe Hall 24, as B35
cover story
The Drive chain is often perceived in industry as a machine element as a means to an end, while the more complex components surrounding it receive more attention. And so designers often use inexpensive standard solutions and do not even question customer-specific development. It offers Tsubaki quite worthwhile alternatives for special requirements.
For many applications in drive technology, there is a large - sometimes confusingly diverse - selection of different chain technologies. Here it is advisable that planners talk with a chain supplier about the best choice for their application. It sometimes turns out that the often-used standard chain is not the best choice, and a custom solution can lower the total cost of ownership (TCO).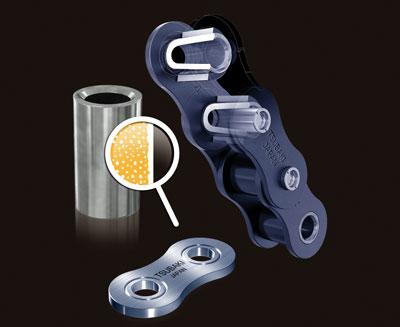 The drive specialist engineers are constantly developing the portfolio of their standard chains to stay abreast of developments. If a new production technology is developed in which, for example, extreme temperatures, the influence of chemicals or particularly high loads occur, they also try to provide a corresponding chain for it. Nevertheless, there are applications in which a tailor-made and therefore more complex chain is the most efficient solution.
Special design team
A special design department is dedicated to these adjustments. The engineers design customer-specific chains, add-on parts or special sizes. Some products differ only slightly from the standard chain and comply with the DIN / ISO standards. Others, however, require a completely individual solution and exceed the usual standards. In both cases, the team works very closely with the designers and engineers of the users.
Custom features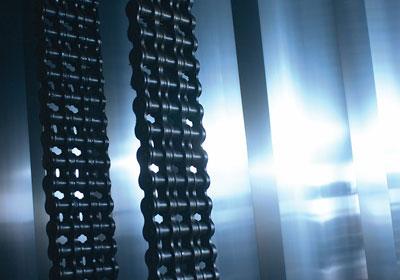 Applications that do not conform to the standard can, for example, As high speeds, high loads, extreme shock loads, continuous operation, longer periods of use, etc. have. Extreme environmental conditions include water, brackish or salt water, steam and moisture, as well as corrosive substances or atmospheres, extreme temperatures or temperature fluctuations, outdoor applications in extreme weather, and even locations that are difficult to reach.
To meet all these requirements, the manufacturer offers solutions such as maintenance-free chains, chains made of stainless steel and other high-performance materials, corrosion- and chemical-resistant chains, chains with unusual geometries or special lubricants.
Requirements for conveyor chains
In conveyor chains, there are often applications in which such an individual design should be considered. Here, the attachments are just as important as the chain itself. The drive specialist offers a wide range of standard accessories and also develops special solutions here. These could for example be based on bolts, lugs, special profiles, moldings, etc., and be made of a variety of metals, engineering plastics or other materials.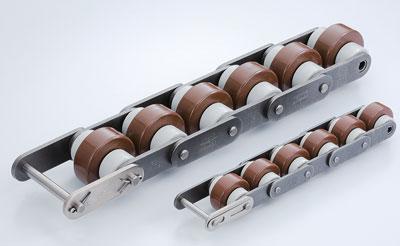 In addition, a custom approach to conveyor chains often involves changing the chain pitch. The existing conveyor chains according to DIN or ISO standards do not cover all the requirements of the industry. Therefore, during its 100 year of existence, Tsubaki has also developed standards that are considered in each new custom project.
The company has already written many success stories: An example from the Netherlands shows how a steel mill improved its productivity in the long term after retrofitting lifting chains that last from 10 to 15 years. Or, a French automaker could almost completely eliminate a conveyor downtime caused by wear friction by installing a "Double Plus" accumulation conveyor chain.
Unexpected downtime can thus be avoided, maintenance costs reduced and downtimes minimized by talking to the expert before selecting the drive chain.
---
Another contribution of the manufacturer This e-mail address is being protected from spambots To display JavaScript must be turned on!
More news about drive elements
Hannover Messe Hall 5, Stand D32 / 1 Expert knowledge At the moment, the multi-plate clutch is enjoying increasing demand from designers and developers of industrial drive technology against the background of the Ringspann product offensive, which has been running for two years. In the field of shaft couplings, this has led to the addition of numerous new types of couplings to the portfolio. This addresses the correct selection and design of the non-switchable, torsionally rigid shaft couplings at the Hannover Messe 2020.

Hannover Messe Hall 5, Stand E04 Intelligent machine elements provide important measurement data for transparency in the drive train. This is how they support efficient and predictive machine maintenance. At the Hannover Messe 2020, Mayr Antriebstechnik presents intelligent solutions for brake monitoring as well as new approaches for networked clutches. The drive specialist invites visitors to think along the new paths.

Logimat Hall 1, Stand A08; FMB South Stand C7 Habasit offers high-quality toothed belts from the Habasync series with practical mechanical end connections for quick changes. This means that the operating costs of conveyor lines can be reduced through short assembly and maintenance processes, such as when changing timing belts. Endless belts can alternatively be connected to mobile heating presses directly on site. This significantly reduces downtimes when changing a toothed belt.

Case Study A British car manufacturer had a problem with the maintenance of the conveyor chains that power its lanyards. This is used to transport the assembling car body components. The roller chain had to be replaced too often, otherwise it would have caused production to stop. The problem was solved by converting to a special conveyor chain from Tsubaki. To do this, only the TCO costs had to be put in the foreground instead of the purchase price.

KBK Antriebstechnik has developed the KBGK and KBGK-T articulated couplings that connect shafts and components with extremely little play and even compensate for high radial and angular misalignments. They are made from high-quality materials such as aluminum and steel, are torsionally rigid in the circumferential direction and give in to radial forces and angular deviations.

The ball screw or trapezoidal screw is usually not connected to the drive journal of a motor or gearbox in a rigid manner, but via a flexible coupling. This can compensate for misalignments or misalignments and minimize vibrations and shocks in the drive train. Dr. Tretter now offers compact shaft couplings for this.

SPS Hall 3, Booth 419 Rigid couplings of the "Torqmax step bore" series from Orbit Antriebstechnik enable the play-free connection of shafts with different diameters thanks to their graduated bores. For a low mass moment of inertia, the couplings are made of aluminum, additionally anodized to prevent corrosion, and some are also available in stainless steel.

SPS Hall 4, Booth 278 Mayr Drive Technology presents new versions of the "Roba-brake-checker" module, which can now also be used to monitor small brake sizes. This opens up new possibilities for brake monitoring - especially with spring-applied brakes in servomotors and for applications in robotics and automation.

EMO Hall 5, Stand D89 The "Simple-Flex" series from Jakob Antriebstechnik is a new type of spacer coupling that can be manufactured up to a length of 6 m and does not require additional intermediate storage. A sophisticated composite tube with a multi-layer, angle-specific fiber configuration enables a particularly simple design that does not require any coupling compensation elements at the tube ends.
load More halt SHIFT to load everything load all