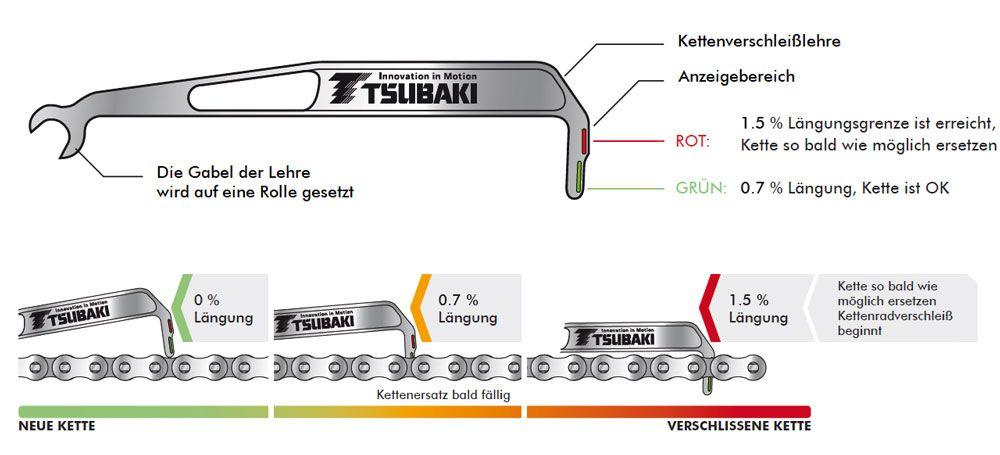 Regular inspections of the chain drives in plants can avoid unexpected failures by timely replacement of the roller chains installed in them. Tsubaki has extended its range of chain wear gauges by large sizes for the maintenance of such chain drives. The new chain wear gauges were designed for BS sizes RS20B to RS48B and ANSI sizes RS100 to RS240.
They supplement the BS and ANSI set with the sizes RF06B to RS16B and RS35 to RS80. The chain wear gauges meet the highest quality requirements and are corrosion resistant. Their rugged construction ensures accurate measurement over a long service life at all times. All chain wear gauges are also available separately.
Wear due to elongation of the chain leads to a loss of alignment accuracy for the entire drive system. This is particularly noticeable in positioning and locating tasks, reduces efficiency and increases noise and vibration. If the wear exceeds a critical point, the chain begins to rise in the sprockets or even jumps out. Shock loads with even more wear are the result.
Such problems are avoided by regularly checking the chain for wear elongation. With the help of practical teachings, the condition of roller chains can be measured in just one operation and their degree of wear can be determined. The wear gauge works on the traffic light principle: the chain is as good as new, if the wear is less 0,7%. Then the top of the display bracket does not fit between the rollers of the chain. The degree of wear is acceptable for elongation between 0,7 and 1,5%. Here lies the green area of ​​the display bracket on the chain. The chain is to be replaced with an extension greater than or equal to 1,5%. This is displayed when the red area reaches the chain link.
---
Another contribution of the manufacturer This e-mail address is being protected from spambots To display JavaScript must be turned on!
More news about drive elements
load More halt SHIFT to load everything load all