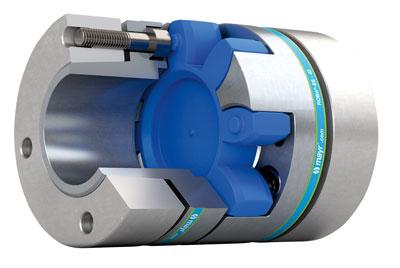 EMO Hall 8 stand E45
Mayr Antriebstechnik offers with its clutches and brakes complete solutions from a single source for the reliable protection of machine tools and machining centers. For example, there is a wide range of backlash-free, high-performance Servo Couplings for a secure connection between the waves. And to secure gravity loaded axles there is a broad portfolio of reliable ones Safety brakes ready.
These servo couplings are subject to very different requirements depending on the application. Therefore, the drive specialist has various metal bellows, elastomer and disc pack couplings in the program. The company has recently added a number of new hub designs and intermediate sleeves to its standard kit - most recently a new long intermediate sleeve for the "Roba-ES "Elastomer Couplings (Picture above). With the large variety of variants, the company is able to offer solutions for all drive constellations in the servo technology, simply and quickly. The intelligent modular system also ensures high availability, short delivery times for standard components and low prices.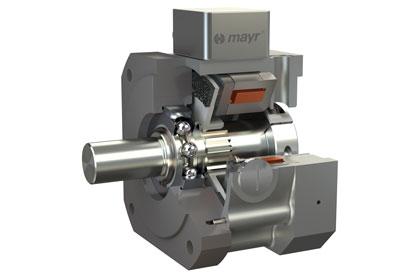 The safety brakes eliminate the risk of suspended loads, which pose a significant hazard potential in machinery and equipment - especially when people are below it. If there is an unintended fall or crash, the load must be brought to a standstill within a very short time in order to protect persons and material from damage. The various brake concepts of the manufacturer are tailored to different machine requirements and offer the right solution for every application. The technologically leading friction system and consistently considered safety principles stand for power-efficient and above all safe and reliable brakes.
---
documentation This e-mail address is being protected from spambots To display JavaScript must be turned on!
More news from Mayr power transmission
Hannover Messe Hall 5, Stand E04 Intelligent machine elements provide important measurement data for transparency in the drive train. This is how they support efficient and predictive machine maintenance. At the Hannover Messe 2020, Mayr Antriebstechnik presents intelligent solutions for brake monitoring as well as new approaches for networked clutches. The drive specialist invites visitors to think along the new paths.

User report The largest machines that are currently digging underground on the construction site of the Semmering base tunnel are two tunnel boring machines. The EAS-HT safety coupling from Mayr power transmission is used to protect these heavyweights. These couplings trigger reliably and understandably and protect the drive components sustainably. They cannot be manipulated and the factory-set torque is available again even after disengagement. Recommissioning is also quick and easy, without additional tools.

FMB Hall 20, Stand C31; SPS Hall 4, Booth 278 User report The cheese production facilities are just as mature as the delicatessen itself. The French manufacturer of production lines for the production of cheese and milk products Chalon Mégard relies on reliable linear brakes from Mayr Antriebstechnik in its machines. The corrosion-protected brake systems easily withstand the operating conditions in the food industry and ensure, for example in a vertical conveyor system, that the heavy cheese wheels do not fall.

SPS Hall 4, Booth 278 Mayr Drive Technology presents new versions of the "Roba-brake-checker" module, which can now also be used to monitor small brake sizes. This opens up new possibilities for brake monitoring - especially with spring-applied brakes in servomotors and for applications in robotics and automation.

FMB, Hall 20, Stand C31 Cover story The traditional family company Beyer Maschinenbau plans, develops and builds efficient packing and palletizing systems for the beverage and food industry. The patented "Roba-DS" multi-plate pack couplings from Mayr power transmission transmit precise torques in these systems. In lifting applications, the "Roba-linearstop" safety brakes reliably ensure the safety of people and materials.

Motek Hall 6, Stand 6324 Mayr Antriebstechnik presents backlash-free shaft couplings for all drive configurations and reliable safety brakes for vertical axes. There are innovations in the standard modular system. The intelligent monitoring module "Roba-brake-checker" comes up with new versions. It monitors and supplies safety brakes without sensors and provides data for safety.

With its clutches and brakes, EMO Hall 8, Stand E45 Mayr Antriebstechnik offers complete solutions from a single source for the reliable protection of machine tools and machining centers. For example, a wide range of backlash-free, powerful servo couplings ensures a secure connection between the shafts. And a wide portfolio of reliable safety brakes is available to protect gravity-loaded axles.

The Mayst power transmission engineering company from Mauerstetten celebrates the 25th anniversary of its location in Poland. The former small manufacturing facility has now developed into a modern, efficient industrial company with around 400 employees - with active support from the Allgäu region.

Ferdinand Mayr (r.), Fritz Mayr's grandson, is the fifth generation to join the management of Chr. Mayr GmbH + Co. KG. In the future, three managing directors will stand for security, reliability and innovation across generations in the company founded in 1897.
load More halt SHIFT to load everything load all