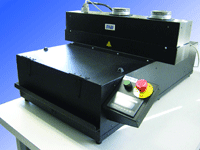 Polytec introduces the LS-845 before a new tool that significantly simplifies the creation of rules for sintering processes in the field of printed electronics. The LS-845 is a benchtop solution with linear actuator for the integration of "Xenon Sinteron "500 or 2000 systems. Suitable process parameters for rapid sintering of nanoparticle inks at room temperature on temperature sensitive, flexible materials are precisely defined. The procedures can be created easily.
Flexibility in the combination and variation of the parameters is the key to success. The setting of the tool are as flexible as the printed material itself, the user can select for the flash bulb of Sinteron 2000 both the intensity and the pulse duration. Also the throughput speed of the sample under the flash lamp is selectable. A software interface path velocity and pulse sequences of the lamp can be controlled, so that it allows a quick set of different operating states of the table.
The movement of the motorized stage, the operating states "static", "continuous" and accept "triggered". Simply by adjusting the aperture and the distance of the lamp from the object, the user can create a variety of optical profiles for different test conditions. Also the safety of the user account has been taken. Access to the linear stage is via a damper. Interlocks protect xenon flash as long as the valve - for example, during the material means - is open. The large number of parameters and their combination opens possibilities for testing a wide range of nano inks and substrates. In this way supports the LS 845 the user in determining the optimum sintering conditions. Copper and silver nanoparticle inks are typical examples of the applied nano-materials. The most commonly used temperature-sensitive, flexible substrates made of PET and paper materials.
---
Another contribution of the manufacturer This e-mail address is being protected from spambots To display JavaScript must be turned on!