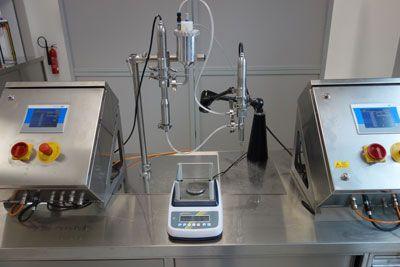 FachPack Hall 3A, Booth 127
A major challenge in dosing technology is still the gentle dosing of solids laden liquids, without damaging the solids. Viscotec provides pharmaceuticals for this Dispenser Hygienic design ensures a reliable dosing process.
For longer standstill of solids laden liquids there is a risk that the solids settle. The material sediments. If this happens, the dosing device clogs and must be completely disassembled and cleaned. The entire dosing process is interrupted.
In the Pharma Dispensers, which comply with all relevant hygiene guidelines, an additional circulation nozzle is integrated. The proven eccentric screw technology of the manufacturer enables a circulation of the material to be dispensed down to the pump housing. So no rinsing steps must be performed before dosing. In addition, the uniform volume flow and the comparatively low pressures prevent sedimentation of the solids. Due to the low shear, the solids can be dosed undamaged.
Other technologies, such as hose and piston pumps, crush the solids or damage them by excessive pressures. In addition, in these pumps, the material can be circulated only in the container and in the manifold, which often leads to clogging of the metering pump. This must then be cleaned in several rinsing steps and it takes some time until the production runs smoothly again.
Picture: Experimental setup for the dosing of e-liquids with a dispenser with circulation nozzle
---
Another contribution of the manufacturer viscosity calculator This e-mail address is being protected from spambots To display JavaScript must be turned on!