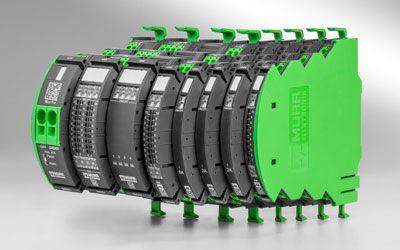 "
Mico Pro "is the new Power Management System
Murrelektronik. The modular design, they can scan adapted precisely to the particular application. This offers a favorable cost-benefit ratio for up to 60% space savings in the control cabinet. The patented trigger behavior ensures maximum machine availability. An integrated approach for potential distribution unbundled cabinet wiring significantly.
The intelligent power monitoring system consistently monitors all load and control currents and detects critical moments in good time. Mico Pro signals limit loads and switches off faulty channels in a targeted manner. The triggering behavior is patented and follows the principle: "as late as possible, as early as necessary." Mico Pro also recognizes "fleeting errors".
From numerous modules for 12- and 24 VDC operating voltages suitable components are selected and mated with a power module without tools to a closed system. Here you can choose between modules with 1, 2 or 4 output channels. These are just 8, 12 or 24 mm wide - and thus offer considerable space savings.
The "Fix modules" the tripping currents (2, 4, 6, 8, 10 and 16 A) are fixed. The "Flex-modules", the trip current of 1 10 to A or 11 20 to A are set. This increases flexibility and reduces the variant required. It is possible to replace individual modules of the system group easily at any time.
Mico Pro has an integrated distribution concept for potential + 24 (or + 12) and 0 V and simplifies cabinet wiring so significant. On each channel, there are connections for + V and 24 0 V. With additional potential distributors potentials can be connected to each Mico channel up to 2 12 x.
The easy-to-use bridge system consists of two busbars and lateral spring contacts for contacting diagnostic and control signals. It is designed for a total current of up to 40 A. All inputs and outputs of the system are equipped with push-in spring-loaded terminals. The front of Mico Pro is obscured at any time of cables or wires; the operator can collect labels and LED status at a glance.
---
Another contribution of the manufacturer
This e-mail address is being protected from spambots To display JavaScript must be turned on!