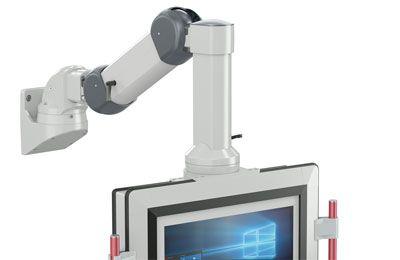 FMB Hall 21, Stand B21
With the height-adjustable support arm system GTV Rose Systemtechnik optimally adapts plant panels weighing up to 60 kg to the needs of each individual operator. Now there is a smaller, cheaper version: With the GTV light for enclosures up to 25 kg, companies will find it much easier to set up ergonomic workplaces.
It allows the position of panel PCs and control housings to be quickly and steplessly adjusted to the size of the respective operator. The system is extremely flexible and has many options such as the individual determination of the end stop and load range. In addition, the panel can be fixed in any desired position.
The GTV light is also suitable for applications with limited installation space: In these environments, the operating housing is swung up out of the work area and the freedom of movement of the staff is maintained. Typical applications for the height adjustment system are tooling, packaging or printing machines. It is also used in assembly automation, automotive production or in the process industry.
---
Another contribution of the manufacturer contact